Mission Fateh: Screening of 807048 persons done during door to door survey of 162436 houses to win over war against covid-19
Second round of door to door survey to start soon under Mission Fateh: Deputy Commissioner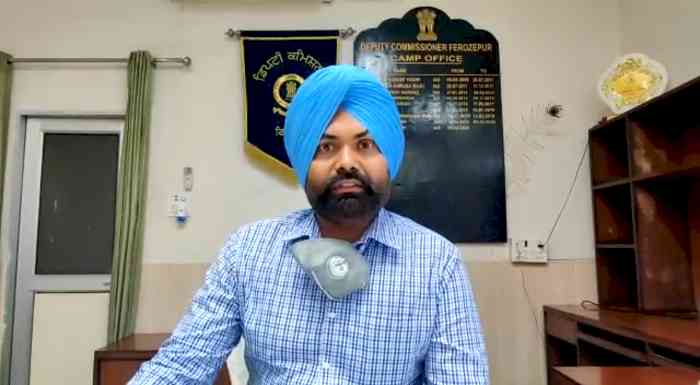 Mr. Kulwant Singh,Deputy Commissioner, Ferozepur.
Ferozepur: Under the 'Mission Fateh' program launched by the Punjab Chief Minister Captain Amarinder Singh on June 1, the second round of door to door survey to start soon in the district.
 
Divulging the details, Deputy Commissioner Ferozepur Mr. Kulwant Singh said that during the first round conducted from the last week of April to May 30, 2020, a total of 807048 persons have been screened of 162436 houses. He said that the survey was conducted daily to check the spread of the Corona Virus in the district. He said that the health teams accompanied by the Aanganbari workers intensively visited the houses and conducted the medical screening of the people. The whole purpose to carry out this drive was to ensure that no one left without screening as it was imperative to contain the disease. 
 
The deputy commissioner further added that a total of 31,222 houses surveyed in the Ferozeshah block followed by 42,994 in Mamdot, 40808 in Kassoana, 33370 in GuruHarSahai, 7855 in Ferozepur urban and 6187 in Zira block. Similarly, 158646 persons have been screened in Ferozeshah block, 204613, 211213, 168880, 35846, and 28158 persons were screened in Mamdot, Kassoana, GuruHarsahai, Ferozepur Urban, and Zira block respectively.
 
Mr. Kulwant Singh further added that 166 symptomatic persons were referred for sampling during this survey by the inspection teams adding he said that the second round of this house to house survey to begin within a couple of days.
 
Civil Surgeon Ferozepur Dr. Navdeep Singh said that to aggressively trace the COVID-19 patients, the administration has so far conducted 4626 Throat Swab Tests of the suspected patients in the district out of which 3990 persons were reported negative adding he said that the result of 363 samples was still awaited and a volume of samples was repeated.
 
The Civil Surgeon categorically mentioned that the Health department was making strenuous efforts to check the pandemic in the district and no stone would be left unturned for this noble cause.