`Mission Fateh': Disseminating message of social distancing, masking and handwashing DC Ferozepur rides a bicycle for 20 KM  
Says, war against Corona Virus can only be won through mass awareness and behavioural change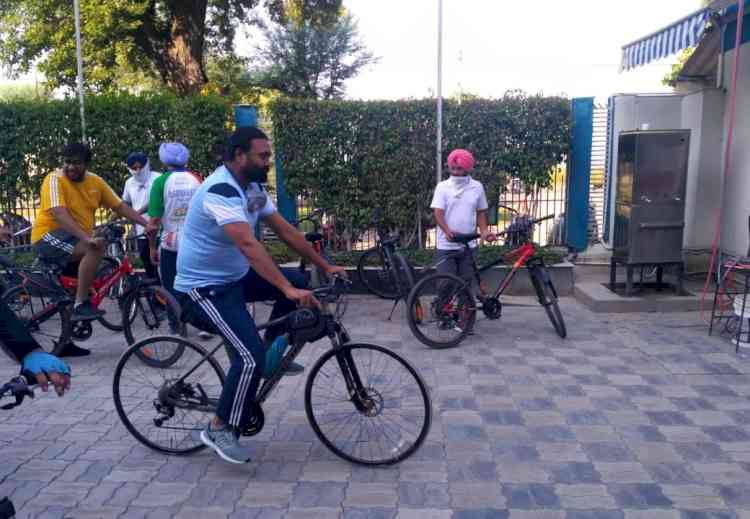 Ferozepur: To spread the awareness among the public to contain Covid-19 pandemic, Deputy Commissioner Ferozepur Mr. Kulwant Singh on Wednesday paddled bicycle for about 20 Kilometers as a part of 'Mission Fateh, the flagship program of Chief Minister Captain Amarinder Singh.
 
Mr. Kulwant Singh accompanied by city cyclist community including SDM Mr. Amit Gupta, President Cycling association of Ferozepur Mr. Anirudh Gupta, Secretary Mr. Sohan Singh Sodhi, Senior Member Mr. Harish Monga, Secretary Red Cross Society Mr. Ashoke Bahal rode the cycle for 20 Kilometres from Saragarhi Memorial Complex to Martyr's memorial of Shaheed Bhagat Singh, Rajguru and Sukhdev situated at Hussaniwala border.
 
Congratulating people on the eve of world bicycle day, the deputy commissioner emphasized on the importance of cycling from a fitness point of view. The Deputy Commissioner said that cycling helped us boost our immunity level to combat any kind of disease.
 
He said that to win over this ongoing war against the Corona Virus, a unique initiative 'Mission Fateh' has been launched by Chief Minister Captain Amarinder Singh, which aimed at sensitizing people to adopt golden principles of social distancing, masking and hands washing besides other awareness activities.
 
He said that the ongoing war could only be won through mass awareness and transforming this initiative into a mass movement. The Deputy Commissioner said that our corona warriors who have performed in service to humanity would also be facilitated with appreciation letters.
 
The Deputy Commissioner further added that however we have scored in this fight so far but the danger was still looming until this disease was completely contained. He called upon people that only through behavioural change and adopting the norms of social distancing, masking, and maintaining hygiene we could succeed.