Mission Fateh: DC Ludhiana takes round of civil hospital and issues necessary instructions to staff
Motivates doctors to work hard and make Mission Fateh successful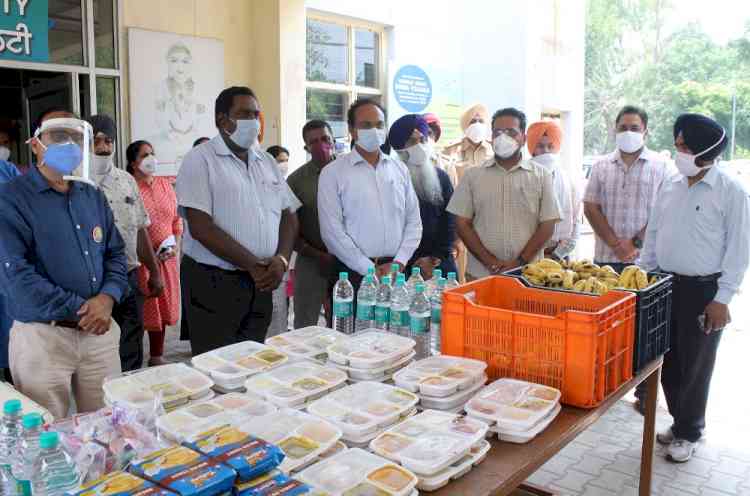 Ludhiana: Deputy Commissioner Mr Varinder Sharma today took a round of the Civil Hospital today and issued necessary instructions to the staff. He also interacted with the doctors on duty and urged them to work wholeheartedly in service of patients so that we can collectively make Mission Fateh successful.
He informed that the District Administration is committed for providing best healthcare facilities to the residents. He said that even the bed capacity in Level-1 Covid Control Centres have been increased to 1200, at level-2 centres to 450 and the capacity of isolation wards in private hospitals is now 84. He said that the government has tied up with government hospitals such as DMCH, CMCH, Guru Teg Bahadur Charitable Hospital, SPS Hospital, Deep Hospital.
He urged the residents to follow all government directions in the interest of the society and should not panic. He assured that the District Administration as well as the Punjab government is keeping close watch on all cases and best healthcare services are being provided to the patients.
He said that if any person has Covid like symptoms, they should get their tests done at government hospitals totally free of cost. He said that if any person is tested positive and is asymptomatic, they can be sent for home isolation if they have a separate room attached with a bathroom in their house. He said that people should not make Covid as social stigma as it is just a form of influenza.
Mr Sharma said that the only way one can save themselves from Covid is by wearing masks, maintaining physical distancing and maintaining hand hygiene. He assured the residents that maximum number of tests are being conducted in the state and that they should not worry.
On this occasion, the Deputy Commissioner also saw the working of NGO Ann Jal Sewa Trust and also visited their canteen within the Civil Hospital premises.
Prominent among those present on the occasion included SDM Ludhiana (East) Dr Baljinder Singh Dhillon, Civil Surgeon Dr Rajesh Kumar Bagga, Mr Shiv Ram Saroye, besides several others.