Members of NZIEA working in LIC divisional office, Dugri, Ludhiana stage protests 
Oppose government's pronouncements of disinvestment in core sectors and anti-worker amendments in labour laws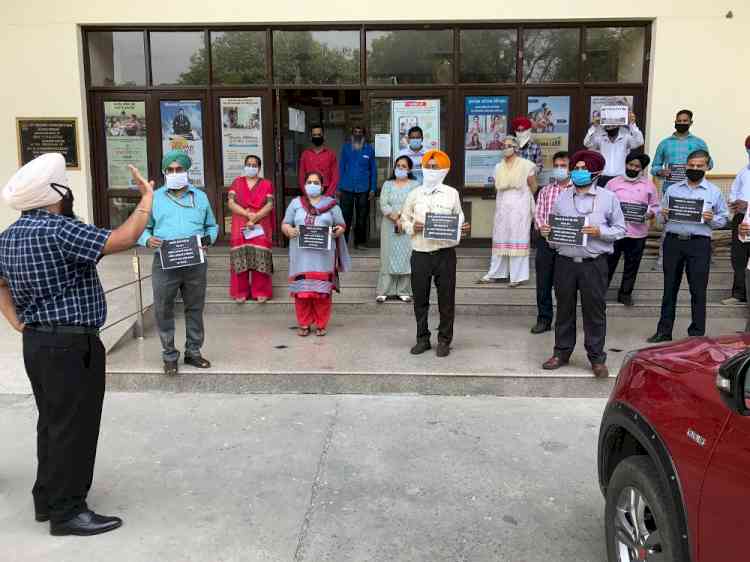 Ludhiana: Members of NZIEA – Northern Zone Insurance Employees' Association, working in LIC divisional office, Dugri, Ludhiana strongly protests against the government's pronouncements of disinvestment in core sectors and anti-worker amendments in Labour laws and expresses its wholehearted support and solidarity to the call of the Joint Platform of Central Trade Unions in observing Nationwide Protest Day, Today. 
While releasing the press note Amarjit Singh, Divisional Secretary said that, The Outbreak of Corona has in its trail brought about job losses, closures and unmitigated difficulties to toiling people, mainly migrant workers and those in unorganized sector. These have been cascading effects after demonetization and implementation of GST. According to the Centre for Monitoring Indian Economy (CMIE), 122 million workers have already lost their jobs. The CMIE has also estimated that for the week ending 17th of May, the unemployment rate is as high as 24%. While loss of jobs and livelihoods has become a serious problem, many workers are dying due to hunger, exhaustion and accidents. Rather than taking some genuine measures to ameliorate the suffering of the working people, the government has launched a savage attack on the hard-earned rights of the workers, they said.
Starting with DA Freeze for Central Government Employees and Pensioners, the Governments have initiated measures, to increase working hours from eight to twelve, to cut the EPF Contribution, to dilute labour laws for exploitation, to suit the needs of employers.
Further, Defence production, power, mining, aviation and other sectors have come under the block for disinvestment and/or FDI increase, hike in FDI in defence production, raises concerns of national security.  The government has rolled down red carpet to welcome FDI even in the most sensitive sectors of the economy. Water, Space, Forests, Rivers everything is being privatized. Disinvestment has already made inroads into public sector general insurance companies. The government has already announced that LIC will be listed in the stock market. The so-called stimulus package has only laid out a road map for wholesale privatization of the Indian. 
The leadership vehemently protests against the ill-conceived moves of the Government, and demands their withdrawal, urges upon roll back of all anti- worker policies and to desist from privatization and disinvestment in key sectors and also hands off of Public Sector Insurance Industry. LIC Pensioners' Association also joined this protest.