Mechanised sweeping of roads to start in Shaheed Bhagat Singh Nagar, Rishi Nagar, Rajguru Nagar and Sant Ishar Singh Nagar: Ashu
Inspects machine at Rishi Nagar Market today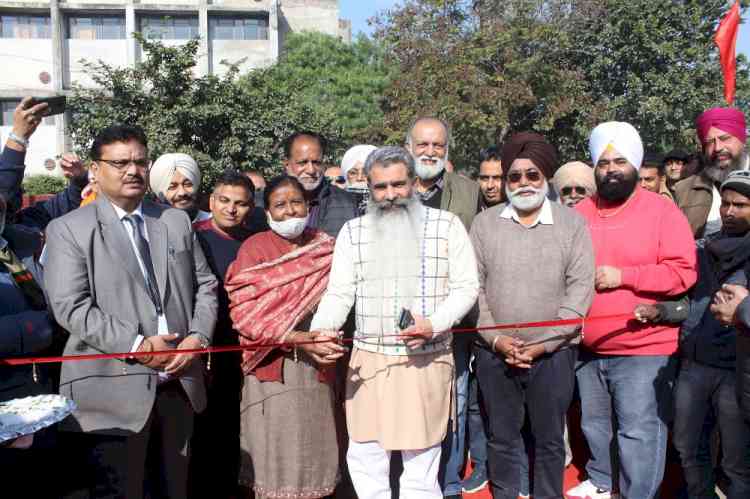 Ludhiana: Punjab Food, Civil Supplies & Consumer Affairs Minister Mr Bharat Bhushan Ashu today informed that for the welfare of residents, mechanised sweeping would be started in Shaheed Bhagat Singh Nagar, Rishi Nagar, Rajguru Nagar and Sant Ishar Singh Nagar areas of the city. He said that due to shortage of safai karamchari's in Ludhiana Improvement Trust, residents of these localities always complained of additional manpower.
Mr Ashu informed that as a pilot project, the LIT is introducing mechanised sweeping from Rishi Nagar area and later, it would be launched in Shaheed Bhagat Singh Nagar, Rajguru Nagar and Sant Ishar Singh Nagar areas of the city. He said that he would personally monitor the progress of this project and no lapse would be tolerated.
Mr Ashu said this while interacting with the residents of Rishi Nagar after inaugurating a static compactor there. This static compactor have been installed for better management of solid waste in the area. He was also accompanied by Mayor Mr Balkar Singh Sandhu, Ludhiana Improvement Trust Chairman Mr Raman Balasubramaniam, MC Commissioner Mr Pardeep Kumar Sabharwal, besides several others.
While speaking on the occasion, Mr Ashu informed that the tenders for this project would be floated next week and the project would be implemented shortly. He said that he is committed for making garbage free Ludhiana and urged the residents to assist the Civic body for this social cause.
He said that for better and effective management of solid waste, a total of 40 static compactors are being installed in different parts of the city, out of which work is going on at 18, while the remaining 22 are in pipeline. He said that at these static compactors, the solid waste is first segregated into wet and dry waste and then compressed five times so that it can be managed and transported in an effective manner.
On this occasion, he also announced that a green belt would be constructed at the site where the garbage dump near the Government Polytechnic College in Rishi Nagar existed once. He said that the area has been cleaned and now the garbage collected from the area would be brought directly to the static compactor instead of the dump. He also urged the residents to segregate dry and wet solid waste in their homes itself.
Earlier he also inaugurated a park gym in Rishi Nagar area of the city.