MCC – 2020 hit its crescendo on second day of carnival
Excitement reached culmination with school rock band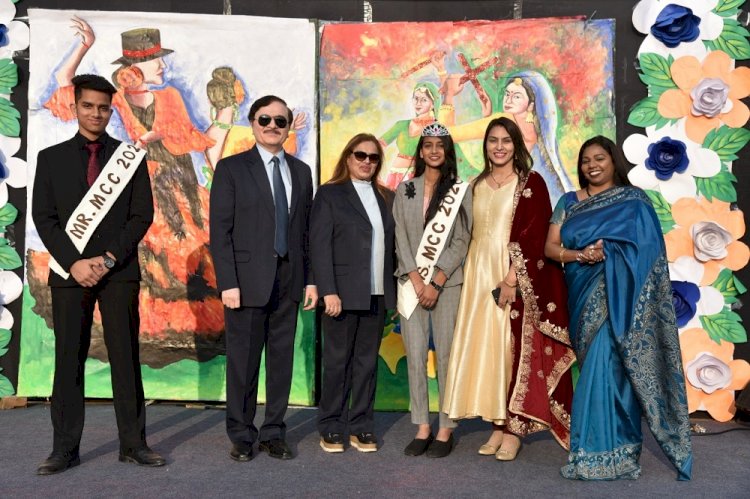 Chandigarh: Joy and jubilation, music and merrymaking reached it high point on the second day of MCC- 2020 at Mount Carmel School, Sector 47-B Chandigarh.
 
A warm sunny morn beckoned one and all, early on the second day, to the joy rides and games stalls were students flocked to try their luck and mettle. Many other young and old enjoyed sumptuous delicacies and yummy eats. Little children manned the bevvy of activities in their respective stalls excitedly.
 
The excitement reached the culmination with the school rock band that played popular music and Bollywood numbers. The second and third rounds of the MCC Fashion Show got the spotlight too. Besides there was prize distribution the winners of various contests and the crowning of Mr. & Ms. MCC.
 
The closing ceremony was presided over by Mr. GurbakshRawat the (Municipal Councillor). The curtains fell to the celebration with the bumper raffle draw. Bright faces and happy smiles gave ample proof of the excitement that prevailed.
 
The Principal Dr. Parveena John Singh lauded the efforts of the staff and students and eulogized the philanthropic mentorship of the Founders & Directors Dr. Earnest Charles J. Samuel and Dr. Annie Charles Samuel. 
Results of the Competitions held during the MCC 2020:
 
Photo Frame Making:
1st  Prajual Verma of DAV Public School, Sector 15, Chandigarh.
2nd  Kanika of Chitkara International School, Chandigarh
3rd  Dikshita Chauhan of Chitkara International School, Chandigarh.
 
Fresh Flower Arrangement Competition:
1st  Esha Verma of Carmel Convent Sr. Sec. School, Chandigarh
2nd  Inayat of Carmel Convent Sr. Sec. School, Chandigarh
3rd Mishika Goel & Maaliha Ahuja of Carmel Convent Sr. Sec. School, Chandigarh
 
Wall Hanging Competition:
1st  Aryaa Chandna of Sacred Heart Sr. Sec. School, Chandigarh.
 2nd Angel of Sacred Heart Sr. Sec. School, Chandigarh.
3rd Arshia Sharma of Sacred Heart Sr. Sec. School, Chandigarh.
 
Western Dance Competition:
 1st   Carmel Convent Sr. Sec. School, Chandigarh
2nd   Chitkara International School, Chandigarh
 
Folk Dance Competition:
1st Chitkara International School, Chandigarh
2nd  Gem Public School
3rd  Mount Carmel School, Zirakpur.
 
Hand Painting Competition:
1st  Sacred Heart Sr. Sec. School, Chandigarh.
2nd Sacred Heart Sr. Sec. School, Chandigarh.
3rd  St. John's High School, Chandigarh.
 
Paper Quilling Competition:
1st  Carmel Convent Sr. Sec. School, Chandigarh
2nd St. Xavier's Sr. Sec. School, Chandigarh
3rd  Carmel Convent Sr. Sec. School, Chandigarh
 
Drawing Competition:
1st  Ajit Karam Singh International Public School, Sector 45, Chandigarh
2nd  Carmel Convent Sr. Sec. School, Chandigarh
3rd Carmel Convent Sr. Sec. School, Chandigarh
 
Fashion show for Mr. & Miss 'MCC 2020'- a contest for the students of class X of the School.
Mr.    MCC 2020:    Abhipray Kulshreshta 
Miss  MCC 2020:     Kinjal Chandel