Mayor reviews status of upgradation of existing sports facilities under Ludhiana Smart City today
All existing sports facilities to be upgraded shortly: MC Councillor Mamta Ashu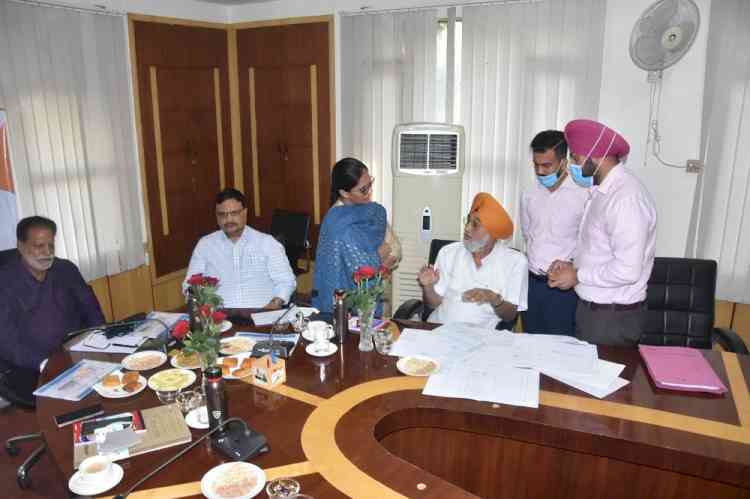 Ludhiana: Mayor Mr Balkar Singh Sandhu today reviewed the progress of work related to the upgradation of existing sports facilities in the city, during a meeting held at MC Zone D office, here. MC Councillor Mrs Mamta Ashu attended this meeting on behalf  of Cabinet Minister Mr Bharat Bhushan Ashu.

The meeting was also attended by former Mayor Mr Apinder Singh Grewal, MC Commissioner Mr Pardeep Kumar Sabharwal, besides several office bearers of different sports organisations and prominent city athletes/players.

Mayor Mr Balkar Singh Sandhu informed that very soon, the two open basketball courts at Ludhiana Basketball Academy would be made indoor. He said that the DPR in this regard has already been prepared and the work is expected to start soon.

Mrs Mamta Ashu informed that on the directions of Mr Bharat Bhushan Ashu, it has already been decided to upgrade all existing sports facilities in the city. She said that the projects include laying of a new athletics synthetic track at Guru Nanak Stadium, indoor swimming pool, upgradation of the Shastri Hall, construction of a new Table Tennis court, upgradation and repair of astroturf and a velodrome (cycling track) at PAU, besides construction of a sports park on 32 acres of land in Jainpur village of district Ludhiana.

She also informed that after the soil testing report, the topographic survey and land demarcation at site of Jainpur Sports Park is going on and would be completed shortly. She said that ex Mayor Mr Apinder Singh Grewal, representatives of all sports organisations, prominent city players/athletes, senior citizens and sports lovers have been roped in to ensure that best sports facilities are provided to the residents.

She informed that the all the projects are personally monitored by Mr Bharat Bhushan Ashu on weekly basis and directed the officials to ensure that proper reports regarding these projects should be ready by next week.

She further said that the Capt Amarinder Singh led Punjab government is committed for carrying out overall development of the state. She said that the projects under Ludhiana Smart City project would be completed on priority basis and within the set time frame.