Mayank Foundation celebrates world ozone day by planting saplings
A clean environment was needed to protect the ozone layer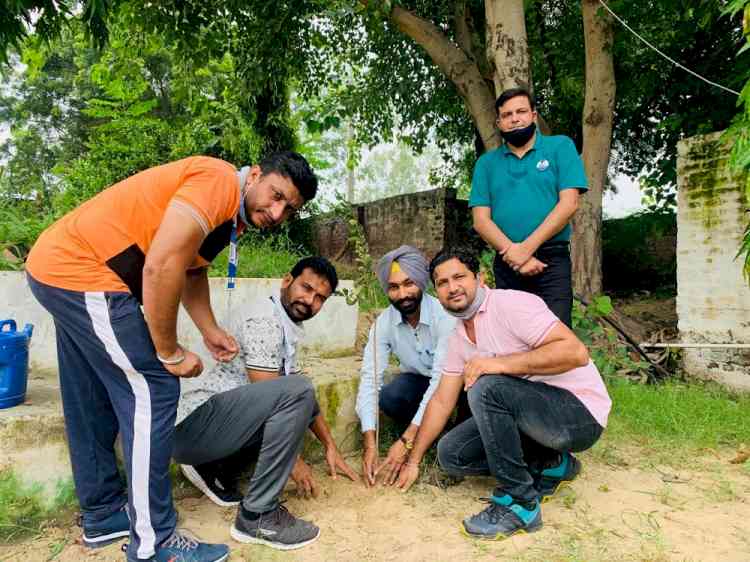 Ferozepur: World Ozone Day or `Ozone Layer Conservation Day' is celebrated around the world on September 16.  We all need to make serious efforts to protect the environment and the ozone layer.  Speaking on ozone Day, Deepak Sharma said that a clean environment was needed to protect the ozone layer for which more and more plants should be planted.  Everyone should take a vow to plant a sapling and take care of it like a child.  Meanwhile, Lecturer Davinder Nath while giving information about Ozone Day said that we are using air conditioners, deodorants and other equipments which emit chlorofluorocarbon gas which is depleting the ozone layer.  The ozone layer is thinning.  As a result, the number of cancer patients are increasing due to harmful rays coming from the sun.  The ozone layer can be saved by reducing the use of these gaseous devices and by planting more saplings.  Disclosing this here today Dr. Gajalpreet Singh, Member of the Foundation said that today Mayank Foundation along with its members and Managing Director of Shanti Vidya Mandir School Kulbhushan Garg, Rajni Madhar Principal, Mohit Garg Director and Khushwant Singh celebrated Ozone Day at Shanti Vidya Mandir.
During plantation, saplings of different types like Sukhchain, Gulmohar, Satpatia, Rukmini were planted.

Protecting the environment is our ultimate duty because humans are responsible for destroying it.  This is our effort to save the environment.  We must continue our best efforts to maintain the ozone layer.  Deepak Grover, Adv Rohit Garg, Adv Ashish Sharma, Manoj Gupta, Dinesh Chauhan, Ashwani Sharma, Gurpreet Bhullar, Gur Sahib and Arsh were especially present.