Maxi Vision Eye Hospital unveils "Vision First" Campaign on world sight day
To observe October as world sight month and pledges for better vision to all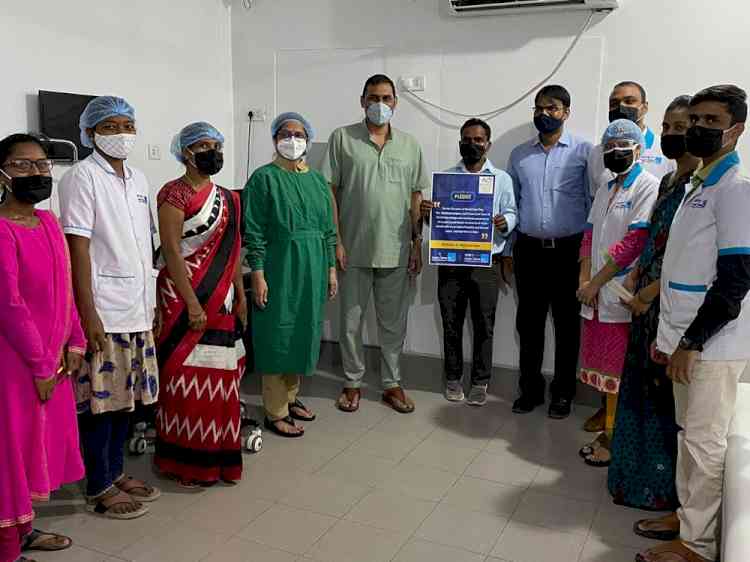 Maxi vision Eye Hospitals Doctors and staff took a pledge on World sight day for better vision to all, unveiled "Vision First Campaign" to create awareness on preventable blindness.
Hyderabad:  World Sight Day is observed every year on the second Thursday in the month of October to create awareness on the importance of vision, avoidable blindness, and eye care problems. This year the World sight day has great importance as many patients delaying the treatment on the pretext of COVID19 cross-infection fears which ultimately showing the severe effect on their vision to worsen further said Dr.Kasu Prasad Reddy – Chief Surgeon & Founder of MaxiVision Eye Hospitals, Hyderabad. There are certain eye problems like glaucoma and diabetic retinopathy which are the cause of irreparable/permanent blindness for many in India if not treated in time. The eye is one of the most important sense organs of the body. It should be seen with the utmost care, delaying the problem with pandemic fears may lead us to permanent blindness. 75 % of blindness can be prevented if treated in time.1.2 billion people don't have access to glasses until today. To address the alarming issue, Maxi Vision Eye Hospital unveiled the "Vision First" Campaign on world sight day today to create awareness on the problem, He Said.

Pledge:
All the staff took a pledge on the occasion and switched off the lights for 5 minutes today to mark the occasion of world sight day and stayed in dark.
Pledge: On the occasion of world sight day, we, ophthalmologists, and the vision care team of maxi vision pledge and rededicate ourselves to be in ethical and honest services to all those people who are in need for healthy and normal vision, and lead them to light
Free Eye checkups for Senior Citizens above 60 years of age through the month of October

Maxi Vision will conduct free eye checkups to senior citizens through the month in all its branch hospitals i.e. Begumpet, Somajiguda, Santosh Nagar, AS Rao Nagar, Chandanagar, Kukat pally, Madhapur, Warangal, Karimnagar, Vijayawada, Visakhapatnam. 

Elaborating more on the same Mr. Sudheer –COO Maxi Vision eye hospitals said Vision problems are prevalent in people of all ages. Especially the elderly, they start getting vision defects as their age grows and develop issues related to sight. Thus they need long-lasting and approachable treatment. World Sight Day is not just a one-day event but it is an initiative that inspires to help the world around us.  There are several areas of focus which need to be addressed such as cataract, glaucoma, diabetes, dry eye, eye care management etc

Approximately 90% of blind people are living in low-income countries; 39 million of the population is blind, around 65% of visually impaired people are more than 50 years of age. To focus on issues as such world sight day is observed every year across the globe to bring in the attention to the vision impairment and Blindness.