Massive rally organized by PBEF Ludhiana
On the call given by Central Trade Unions and many other independent trade/Industrial Federations and from Banking sector All India Bank Employees Association(AIBEA), AIBOA and  BEFI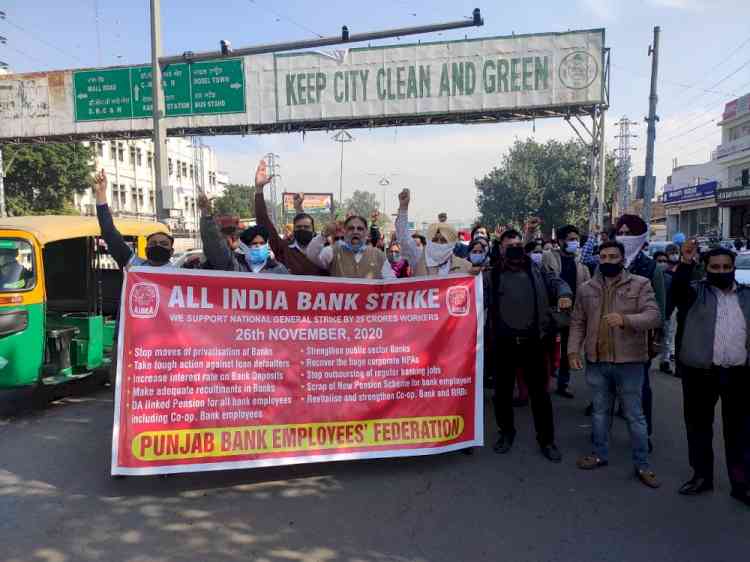 Ludhiana: On the call given by Central Trade Unions and many other independent trade/Industrial Federations and from Banking sector All India Bank Employees Association(AIBEA), AIBOA and  BEFI a massive rally was organized today by PBEF Ludhiana in front of Canara Bank, Bharat Nagar Chowk Ludhiana. Com. Naresh Gaur, Secretary Punjab Bank Employees' Federation, Ludhiana, Com. Pawan Thakur, President Punjab Bank Employees' Federation, Ludhiana, Com. Rajesh Verma, Com. Harwinder Singh, Com. Jarnail Singh, Com. Gurmeet Singh and Com. Chiranjeev Joshi from AIBOA addressed the demonstration on this occasion.
While addressing the meeting Com Naresh Gaur said that, in this background, the public sector banks have a very special and pivotal role to play. Public sector banking was ushered into in our country when State Bank of India came into being in 1955. Thereafter, 14 major private banks nationalized in 1969 and another 6 private banks were nationalized in 1980. Thus public sector banks became the mainstay of Indian banking sector. These public sector banks have been playing a leading role in augmenting the precious savings of the people and deploying the same as credit to all the needy sectors of the economy. From a mere 8000 branches, today banks have grown into an industry with 90,000 branches. Branches have been opened in many nook and corner villages thus taking banking to the common people. From a total deposit of Rs. 5000 crores, today public sector banks have mobilized nearly Rs. 85 Lac crores as deposits. Similarly, from total loans and advances of Rs. 3500 crores, today public sector banks have extended loans to the extent of Rs. 60 lac crores. But unfortunately, in the name of new economic policies and liberalization of banking regulations, banking sector reforms are being pursued in the last 28 years by successive Governments. The main idea to de-regulate the banking sector and liberalise the existing controls. The attempt is to privatise these banks and hand over back to private sector. As responsible trade unions in the banking sector, we have been consistently opposing these reform measures. But the attempts to weaken public sector banks have continued and Government desires to pursue their agenda on banking reforms. The main agenda is to privatise the Banks and this would imply privatizing the huge and precious savings of the people. Hence we oppose any attempt to privatise the Banks. When the Government is contemplating to take the country towards 5 trillion economy, the role of banks is very critical to achieve this objective. Banks have to enlarge their credit portfolio in a big way. More and more loans and advances have to be given. Increase in credit depends upon availability of adequate capital. Hence, Government should adequately recapitalize all the Public Sector Banks. What we need in our country is expansion of banks and not consolidation of Banks.

He further said universally, any process of merger, consolidation or amalgamation has resulted in reduction of staff. In fact, it is one of the purpose of mergers to ensure a lean organisation and achieve reduction in labour cost to show more profit. Hence mergers will result in staff redundancy and threaten job security besides drastically reducing future job potential thus depriving the youth to get jobs.
DEMANDS 
•    Cash transfer of Rs 7,500 per month for all non income tax paying families
•    10 kg free ration per person per month to all needy
•    Expansion of MGNREGA to provide 200 days' work in a year in rural areas at enhanced wages; extension of employment guarantee to urban areas
•    Withdraw all anti farmer laws and anti worker labour codes
•    Stop privatisation of public sector including the financial sector and stop corporatisation of Govt run manufacturing and service entities like Railways, Ordinance Factories, Ports etc.
•    Withdraw the draconian circular on forced premature retirement of Government & PSU Employees
•    Provide Pension to all, scrap NPS and restore earlier Pension, improve EPS-95