Mamta Ashu hands over cheque of Rs 20 lakh to Guru Teg Bahadur Charitable Hospital authorities
Cheque handed over to assist hospital in better functioning of the covid-19 facilities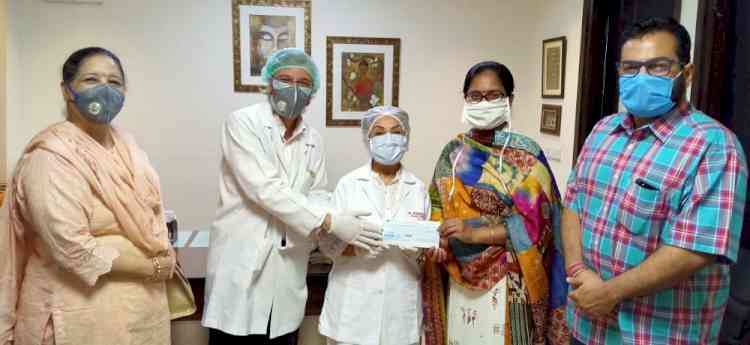 Ludhiana: MC Councillor Mrs Mamta Ashu today visited Guru Teg Bahadur Sahib (Charitable) Hospital and handed oer a cheque of Rs. 20 lakhs to the Medical Director Dr Praveen C Sobti and Dr Harish Sehgal (Medical Superintendent) for better functioning of the COVID-19 facilities of the hospital. The management of the hospital had sent an appeal to her for funds for a ventilator and the PFT machine for their COVID-19 project and she motivated Ludhiana's leading industrialists to donate the same as part of their CSR.
            MC Councillor Mr Sunny Bhalla was also present on the occasion. Mrs Mamta Ashu also appealed to other corporate houses to come forward and assist the hospitals in this hour of need.
            During her visit Mrs Mamta Ashu interacted with the patients in the OPD and the IPD. She also visited the 20-bedded Isolation Ward and the Flu Clinic. Dr Harish Sehgal explained the patient's flow through the Flu Clinic and the admission process to her. She appreciated the hospital's commitment to the proper and adequate use of the PPE for staff safety and its policy of maintaining the social distancing norms for patients and their attendants.
            President of Managing Committee GTBH, S. Amardeep Singh Bakshi thanked her for her generous help in arranging the funds and for the overwhelming support she has always extended to this institute. Guru Teg Bahadur Sahib (C) Hospital is a 200-bedded charitable hospital catering to the patients from the lower socio-economic strata of society. For nearly four decades it has been carrying out its mission of delivering competent, compassionate care at an affordable cost.
            Mrs Mamta Ashu said that in keeping with the directives of the District Administration the hospital has a dedicated 20 beds isolation ward and one ventilator for the COVID- 19 patients. In addition, there are 4 private rooms reserved for the police department.