Make service lanes under elevated road motorable before September 30 otherwise ready to face action: Divisional Commissioner to NHAI Officials
Reviews smart city and rural development programs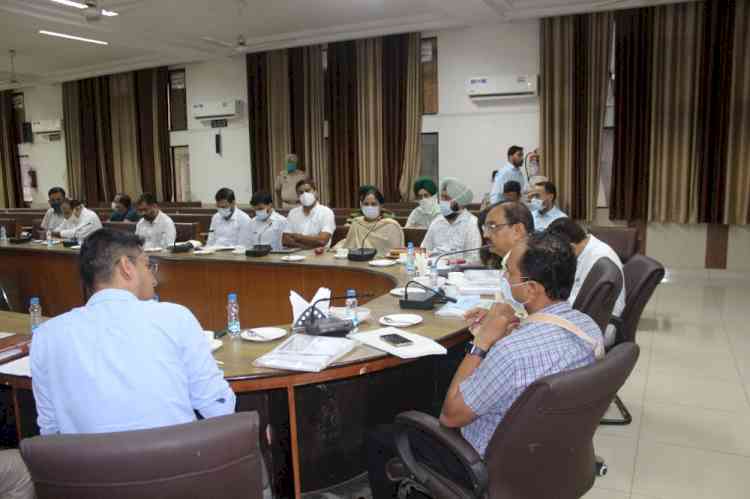 Ludhiana, September 23, 2021: Commissioner of Patiala Division Chander Gaind on Thursday directed the National Highway Authority of India (NHAI) to immediately repair service lanes under elevated road project part of Ludhiana-Ferozepur four-lane highway and make it motorable before September 30.
Presiding over a review meeting accompanied by Deputy Commissioner Varinder Kumar Sharma, Commissioner of Patiala Division said that the service lanes are in very bad shape and commuters are harried a lot due to the careless attitude of executive agencies. 
Chander Gaind told this project is of utmost public importance and NHAI must resolve all the issues promptly by removing all bottlenecks till September 30 to ensure a smooth ride for city residents during the upcoming festive season. He also asked the NHAI officials to also clear the unnecessary barricading on road for the smooth flow of traffic on this stretch. 
Commissioner of Patiala Division further deployed SDM Jagdish Sehgal to personally monitor the repair work and submit a report on October 1 about the status of the work. 
Giving a warning to the executive agency, he clearly said that he would write a letter to the NHAI Chairman against the erring executive agency if it fails to complete the repair work on this stretch by September 30. 
Gaind also directed NHAI that the drainage system on both sides of the highways must be redesigned to ensure water does not get stagnated. 
Meanwhile, the Commissioner of Patiala Division also reviewed the implementation of other flagship programs including Ghar-Ghar Rozgaar, Smart City, Smart Village Campaign, Model Playgrounds, Tandarust Punjab Mission, others and said and these programs must be implemented zealously for ensuring the well-being of people. 
He said that every officer must ensure that every eligible beneficiary was covered under these flagship programs. 
He lauded the Ludhiana district administration for achieving a 100-per cent target of jobs under the Ghar-Ghar Rozgaar program. He asked the officials to personally supervise the implementation of the flagship programs of the state government at the grassroots level.
Prominent among present on the occasion included ADC (G) Rahul Chaba, ADC (Jagraon) Dr Nayan, ADC (Khanna) Sakatar Singh Bal, MC Additional Commissioner Aditiya Dachalwal, SDMs Vikramjeet Panthey, Dr Vaneet Kumar, Jagdeep Sehgal, Himanshu Gupta, Manjeet Kaur, Assistant Commissioner Dr Harjinder Singh Bedi and others.