Major General (Retd.) G.G. Dwivedi's inspiring word instils positivity in minds of NCC cadets 
10-Day Combined Annual Training Camp at KMV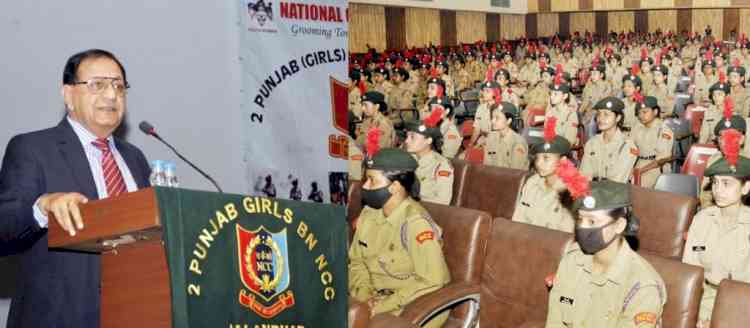 Jalandhar, October 26, 2021: Kanya Maha Vidyalaya (Autonomous) is hosting the Combined Annual Training Camp organised by 2Pb (G) BN. NCC Jal for the cadets of the unit. 
During the camp, a motivational lecture cum interaction was organised in which Major General (Retd.) Prof. G.G. Dwivedi, Professor, Strategic and International Studies, Aligarh Muslim University and also visiting Faculty at Foreign Services Institute, Delhi, was the resource person for the session. General Dwivedi is also a visiting faculty at Punjab University, Chandigarh, Boston University, USA &  is also a resource person for UGC HRD Centres of leading Central Universities of India. During the session, General Dwivedi spoke to young cadets about how to set goals for their future, overcome their fears and explore themselves to become achievers.  Interspersed with anecdotes and rich with personal experiences the lecture had all the young minds full focus. After the session, the queries of the young cadets were answered with extreme dexterity by the speaker and left all enriched for life. It was a very fulfilling experience for young minds of the cadets in the camp. Principal Prof. Dr. Atima Sharma Dwivedi thanked Major General (Prof) G.G. Dwivedi for sparing his valuable time to inspire  the youth who were in NCC and willing to go an extra mile for serving the nation. 
Principal lauded the efforts of Lt. Seema Arora, Ms. Sufalica Kalia and the whole organising committee for organising the session.