Displaying latest concepts of technology, MachAuto focuses on Industry 4.0 and smart manufacturing
Exhibitors evokes huge response from visitors on Day 3 of expo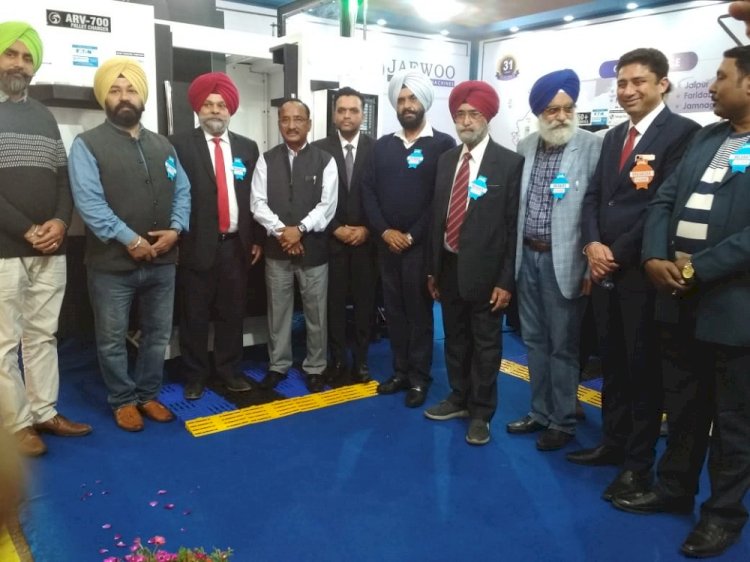 Ludhiana: Displaying latest concepts of technology, MachAuto Expo 2020, India's leading Exhibition on Machine tools and Automation technology focuses on Industry 4.0 and Smart manufacturing. The Industrialists observe that by adopting the latest Technology exhibited in MachAuto Expo 2020, will help in brining Industrial revolution (Industry 4.0), Smart manufacturing and competing in International market.
 
 
An Exhibitor said that there is a problem of skilled worker, competition in market but the technology displayed in the expo solve every problems. The latest and innovations displayed will definitely help in Smart manufacturing. Another Exhibitor said that the Industrialists have got the platform to compare, learn and adopt the technology under the one roof.
 
 
Managing Director of Udan Media and Communications, GS Dhillon said that the focus is on Industry 4.0 and the latest concepts of technology from India and other countries were presented under the one roof. The latest technology will help in Smart manufacturing and brining Industrial Revolution.
On day 3 of Expo, the exhibitors evoked huge response from the visitors. The Four day expo will conclude on February 24 at GLADA Ground, Chandigarh road Ludhiana. In Expo, latest CNC machines, Robotic Technology, laser cutting machines, elevators, scanners, machine tools, engineering tools, Electrical/ Electronic Equipment's, Foundary and forging machines, Quality control accessories and many more were displayed in the expo. The expo is spread over the area of 500000 SQ FT Display Area and 1200 Brands and 10000 products, 850 Live Machines were on display. With 575 Exhibitors from India and 20 countries, MachAuto has become India's leading Exhibition on Machine tools and Automation technology.
 
 
The Expo was supported by MSME and NSIC, Association of Ludhiana Machine Tool Industry, Auto Parts Manufactures Association (India) and other associations.
 
 
 
MP AMAR SINGH, MAHESHINDER GREWAL, MANY OTHER PROMINENT PERSONALITIES VISIT EXPO ON DAY 3
 
On day 3, several prominent personalities including Member Parliament Dr. Amar Singh, Shiromani Akali Dal leader Maheshinder Singh Grewal, Chairman Small Scale Industrial board Amarjit Singh Tikka, OSD to CM, Ankit Bansal, ADCP Iqbal Singh Sandhu, DPRO Prabhdeep Singh Nathowal, top Industrial leader's Onkar Singh Pahwa CMD Avon Cycles, Manjit Singh Khalsa, Gurpargat Singh Kahlon, Upkar Singh Ahuja, Rajesh kalra, Gurpreet Singh Kahlon Member MSME Board, Charanjit Singh Vishkarma, DS Chawla, Gurmeet Singh Kular, Rajiv Jain, Pal Singh Grewal, Sukhjit Singh Hara, Ram Nath sahnewal, Bhola Rai besides several others were present.
 
Maheshinder Singh Grewal said that Expo is very useful for Industrialists to learn and adopt the new technology. The Government should also help the Industrialists of Punjab to adopt the new technology machines to compete in International market.
 
Amarjit Singh Tikka said that the Punjab Government has promised exhibition centre and in 2021, they ensure that exhibition will be organised in the exhibition centre.