Lyallpur Khalsa College Initiates 10 Day Punjabi Folk Dance Camp
Bhangra Camp is contributing in preparing budding bhangra performers: Dr. Samra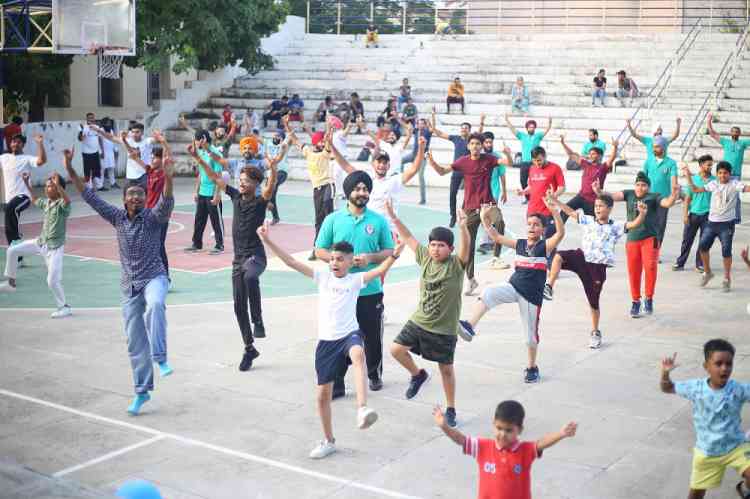 Jalandhar, July 2, 2022: Lyallpur Khalsa College started 10 Day Punjabi Folk Dance Camp on 1st July in order to maintain and spread the rich legacy of Punjabi culture. The chief guest of the inaugural ceremony was Dr. Amandeep Singh, Dept.of Physical Education, Guru Nanak Dev University, Amristsar. Principal Dr. Gurpinder Singh Samra along with Dr. S.S. Bains Deans Sports and Dr. Palwinder Singh Bolina, Dean Cultural Affairs, welcomed the chief guest with bouquet of flowers. 
Principal Dr.Samra, in his address, said that the aim of this camp is to teach different steps of folk dances to the participants. He added that Lyallpur Khalsa College is committed to maintain the rich legacy of Bhangra and this camp is a regular step in preparing budding bhangra performers of the region. He further said that these camps not only bring youngsters near to culture but also help to keep youngsters away from evils like drugs. 
Chief guest Dr. Amandeep Singh congratulated Dr. Samra for organizing such camp and advised the kids and youngsters to take advantage of this dance camp. He also appreciated the efforts of Lyallpur Khalsa College in organizing World Bhangra Camp and wished good luck for upcoming second Bhangra World Cup in September in Surrey, Canada. Dr. Palwinder Singh, Dean Cultural Affairs, welcomed the participants and informed that more than 400 participants got themselves registered for this camp in online and offline mode. Then, volunteers along with Nirmal Kumar Vijay Dholi taught folk dance steps to the participants.  
During this inaugural event, Prof. Sanjeev Anand, Dr. Amritpal Singh, Dr. Dinkar Sharma, Dr. Ajitpal Singh, Prof. Satpal Singh, Prof.Harjinder Kaur, Prof.Navneet Kaur, Prof.Gurchetan Singh, Prof.Prabhdeep Kaur, Prof. Onkar Singh, Prof. Harpreet Singh, Prof. Shefali Taneja, Prof. Sonu Gupta, Prof.Pooja Sonik, Surinder Chalotra PA to Principal and students of LKC Bhangra, Gidha and Luddi teams were present.