Ludhianvis get mesmerised with mega show dance drama "Shri Ram"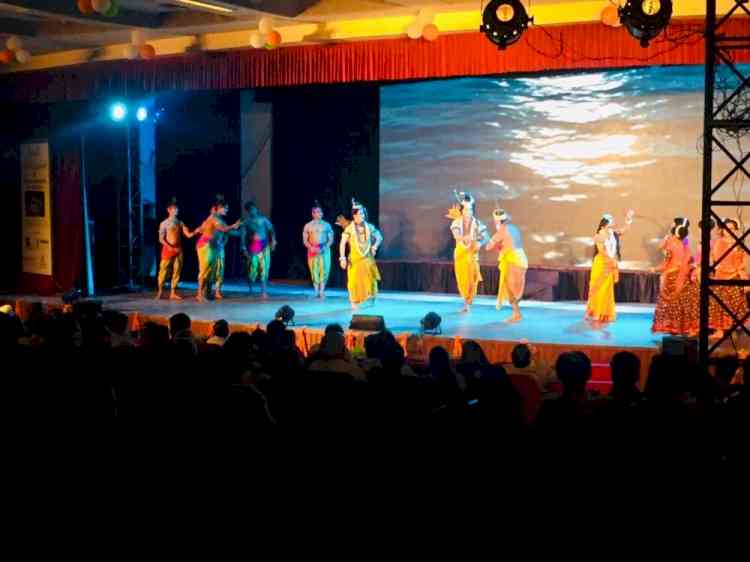 Ludhiana Sanskritik Samagam (LSS) on Saturday evening organising mega show dance drama "Shri Ram".
Ludhiana, October 24, 2021: Ludhiana Sanskritik Samagam (LSS) on Saturday evening organised mega show dance drama "Shri Ram" by 30 artists of Shriram Bharatiya Kala Kendra, New Delhi.  
The play was staged at Guru Nanak Bhawan, Ludhiana and duration of the show was 2 hour 20 minutes.
The play is Shriram Bhartiya Kala Kendra's magnum opus based on the Indian epic of Ramayana, first produced in 1957 as 'Ramlila' and since been staged every year for a month during the festival of Dussehra (September–October). Created and designed in the distinctive dance-drama style, Kendra's iconic production has become a popular event in Delhi's annual calendar. The play unveils the iconic character of Ram-from his birth to his coronation. 
Shobha Deepak Singh's in-depth, meticulous research on the Ramayan stands reflected in the play, which portrays familiar and endearing incidents from the epic Ramayana including the banvas of the revered 'Ram', Sita's unwavering love and faith in the face of several personal predicaments, Ravana's crafty strategies, Ram's unquestioning obedience to his father, his graceful acceptance and addressing of adversities of daily existence, his ability to transcend barriers of caste and creed through acceptance of Shabri's fruits, Hanuman's gigantic effort in getting the Sanjivanibooti, the scheming trickery of the golden deer and several other incidents, that carry the audience through a spectrum of emotions reflecting devotion, loyalty, family endearment, respect and honor to elders. All incidents remain in our mind till much later to endear and resonate, long after the curtain falls.
The Shriram Bharatiya Kala Kendra enjoys the distinction of being the first to present an aesthetically refined 'Sampurna Ramayan',that keeps the intrinsic spirit of the epic alive. Indeed Shriram Bharatiya Kala Kendra's 'Ramlila' is a legacy in itself and a significant segment of an effort to familiarize the audience with the country's cultural heritage.
During the last six decades, the Kendra's iconic production has travelled all over the country and to several overseas countries and has been witnessed by myriads of people.   The dance drama has been presented in many International Ramayan Festivals and has invariably been judged as one of the best productions of 'Ramlila'.
The audience got mesmerised to witness the dance drama. It was a unique, entertaining and thrilling experience for the audience. There remained a complete pin-drop silence from beginning till end of the play. 
Vardhman Group, Centex Fabrics Export Unit, Ralson (India) Limited and Findoc Financial Group were sponsors of the show.