Ludhiana witnesses women cardiac care conference
Event was for formally inaugurated by chief guest Dr MK Dass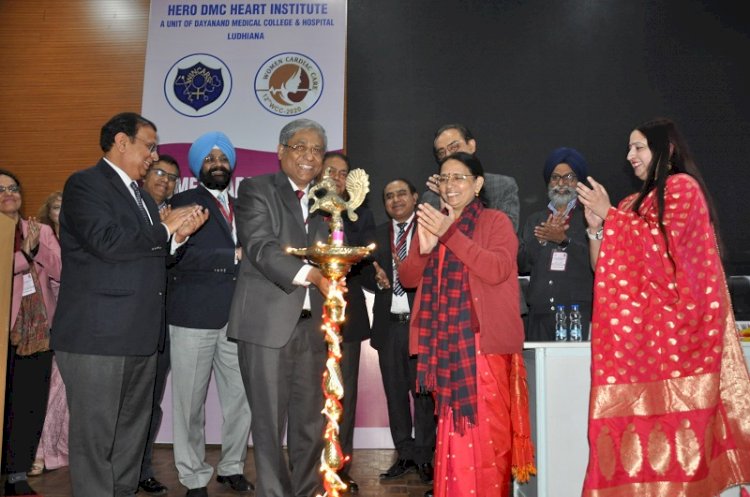 Ludhiana: Hero DMC Heart Institute in collaboration with Women in Cardiology and related sciences (WINCARS) today organized two-day 'Women Cardiac Care' conference in Auditorium of DMC College Campus.
The conference was for formally inaugurated by the chief guest-Dr MK Dass, (President, Cardiological Society of India) along with Guest of Honour- Secretary of DMCH Managing Society-Sh Prem Kumar Gupta. Also present on the occasion were Principal Dr Sandeep Puri, Vice-Principal Dr GS Wander, Dr Karamvir Goyal (Member, Punjab Medical Council) and Dr Madhury Jyotsna (General Secretary, WINCAR), Organizing Secretary- Dr Shibba Takkar Chhabra and Co-organizing Secretary-Dr Mohanjit kaur
Addressing the delegates, the chief guest lauded the effort of organizers in conducting the conference of repute, focusing on women cardiac care and other health issues. He said that focusing on better women health care results in overall progress and growth of nation.    
Organizing Secretary-Dr Shibba Takkar Chhabra announced the inauguration of book 'Oorja' focusing on management of medical ailments in women was released by dignitaries present on the occasion. The book written by leading physicians (specialists & superspecilaists) will enlighten the readers about various ailments and their management  in women, which are usually not properly presented in medical research trials.  
The first day of the conference began with 'Webcast' on Machine learning for health care by J Saketha Nath from Hyderabad followed by a highly elaborative scientific sessions on different topics by Dr IB Vijayalakshmi from Banglaore, Dr Jyotsna Maddury from Hyderabad, Dr Lekha Pathak from Mumbai and Dr Aarti Lalchandani from Kanpur.
Others distinguished guest speakers who spoke on different topics include Dr Roopa Salwan, Dr Mona Bhatia, Prof Anita Saxena from AIIMS, New Delhi and many other leading female cardiologists from different medical colleges and institutes of the country.
Co-organizing Secretary-Dr Mohanjit Kaur proposed a vote of thanks to all the dignitaries, distinguished guest speakers and enthusiastic participating delegates.