Ludhiana School comes forward to aid of needy family with help of Sonu Sood
The mother and the boy Ranjodh Singh thanked the school for the support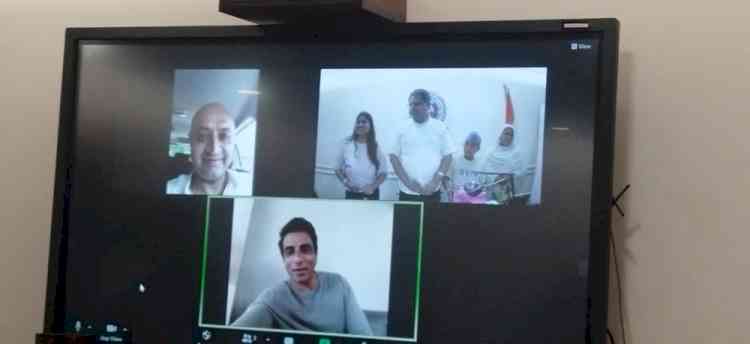 Ludhiana: Following the news report regarding a hapless nine year old boy selling "bhelpuri" outside a liquor vend at the  outskirts of Jalandhar Bye Pass appeared in a section of media, a local group of schools today invited the family included the boy Ranjodh Singh and his mother and presented them with a smart phone, books ,stationery& other items.
As per the information, Film Actor and Philanthropist Sonu Sood had seen the story regarding this family and he contacted his friend Mr. Karan Gilhotra & Mr. Anirudh Gupta. Thereafter, Mr. Gupta asked the Principal Ms. Rajni Kalra to get in touch with the family to extend them all possible help. Within a matter of 24 hours, the school got connected with the family & invited them to  school today .
It also happened to be the birthday of Actor Sonu Sood so a small ceremony was organized at DCM Presidency School, Ludhiana which was attended virtually by Mr. Sonu Sood and Mr. Karan Gilhotra and the CEO, DCM Group of School Mr. Anirudh Gupta. The school offered to train and employ the mother who lost her husband, who was an auto rickshaw driver,but died following a heart attack six months ago.
The Principal, Ms. Rajni Kalra told that the school will look after the educational needs and provide all possible assistance as per convenience and requirement of the kids, including the boy & his two sisters aged 11 & 6 years. She told that DCM Group of Schools has a rich legacy of 75 years and is celebrating its Platinum Jubilee this year, adding that the school is already involved in several Community Outreach Programme such as, free education to under privileged children and distribution of woolen clothes and dry ration to the needy, maintaining green belts, tree plantation, environment protection & women empowerment.
The mother and the boy Ranjodh Singh thanked the school for the support and assistance extended to them. She also thanked Mr Sonu Sood, and Mr Anirudh Gupta for helping in ensuring education and development of children.