Punjab Pradesh Beopar Mandal to hold special meeting in August
To hold detailed discussion on present situation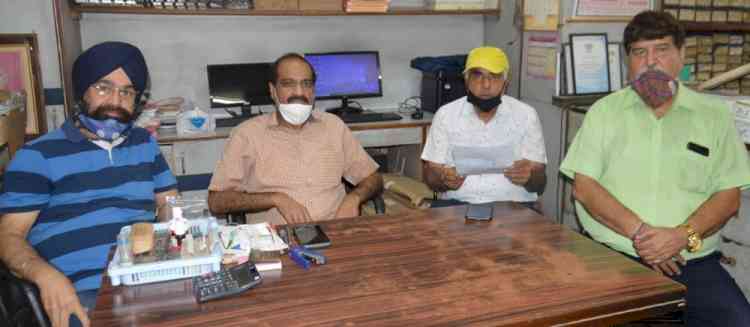 Ludhiana, July 26: Punab Pradesh Beopar Mandal (PPBM) has said the traders have extended their full cooperation to the government during lock down but the state government is doing step motherly treatment to the traders.
Addressing the media persons the mandal's state general secretary Sunil Mehra, state secretary Mohinder Aggarwal, chairman Pawan Lehar and district president Arvinder Singh Makkar added that the state transport department has been providing the facility to travel 50 passengers in a bus with a view to benefit transport department and private transport companies whereas social distance is hardly maintained by passengers while travelling the buses. On the other hand, heavy fines are being imposed for not maintaining social distancing in the markets if the state, they added.
They told that a question to this respect was raised by the public before Punjab Chief Minister Capt Amarinder Singh during a live session on facebook following which Capt Amarinder had replied that all windows are get opened while plying the buses for adequate flow of fresh air. Mehra pointed out that the traders had not put up tants in the markets resulting to which the fresh air was getting interrupted. He asserted that rules should be framed equally for everyone. He said acceding to the demand of traders the Punjab chief minister had allowed to open shops of halwais on August 2, in view of the Raksha Bandhan festival on August 3. They regretted that shops of rakhi sellers and gift items are not allowed to open on August 2, which is a great injustice to them.
Pawan Lehar said they were not against if the government strictly implement the orders in view of pandemic but the rules should be equal for everyone. 
Mohinder Aggarwal regretted that the state government was not taking any interest in solving the issue of assessment cases of old VAT refunds. He added the Punjab Finance Minister Manpreet Badal had agreed to resolve the matter sometimes in the past and a notification was also issued in this regard but the bureaucracy was still harassing the traders. He asserted that the state government should resolve this issue by announcing one-time policy so that traders might come out of financial crisis arising due to pandemic.
Arvinder Singh Makkar said the traders had not opened their commercial establishments during two months period of lockdown but PSPCL is issuing huge amounts of bills, which was a cruel joke with the traders. He said on one hand, all businesses were suffering due to pandemic and on other hands heavy bills of electricity, water, sewerage and house tax etc are being issued. 
Sunil Mehta said a special meeting of Punjab Pradesh Beopar Mandal would be held in August, in which a detailed discussion would be held on the present situation. The attitude of the government towards community would also be serious discussed, he added.