`People should follow all govt directions to score victory over covid 19 and make Mission Fateh successful'
People should avail full benefit of free testing in govt hospitals: Tehsildar Harminder Singh Hundal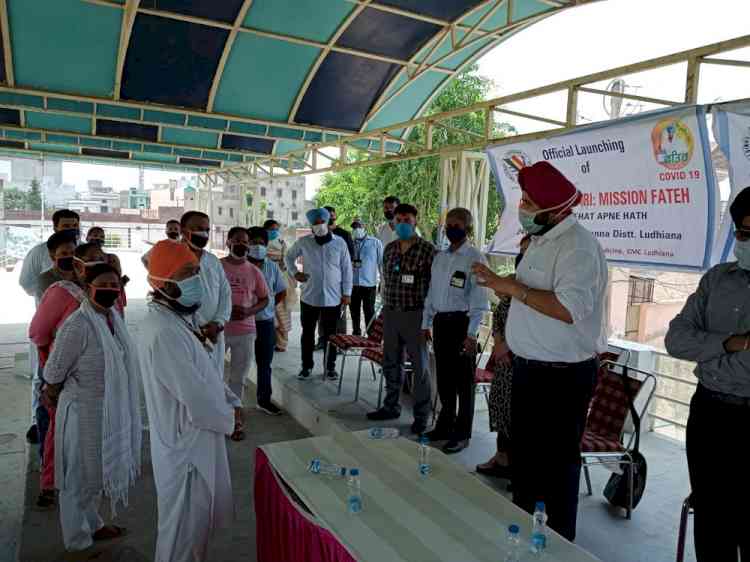 Khanna (Ludhiana): With an aim to ensure that victory is scored over Covid 19 with the help of community ownership (Lok Sanjhdari) and to make Mission Fateh successful, a training programme for the citizens was organised at AS Modern Senior Secondary School, here today. This training programme was organised for the members of core group committees set up in 31 wards of Sub Division Khanna. The training was given to the residents by a team of experts from Christian Medical College & Hospital, Khanna.
The Department of Community medicine, Christian Medical College and Hospital, Ludhiana, team was led by Dr. Clarence James Samuel and comprised of Dr. Avneet Singh, Dr. Deepshikha Kamra, Dr. Gurshan Singh Gill, Dr. Dhruvendra lal, Dr. Ranjit Injety and Dr. Arpita Tigga.
On this occasion, masks were distributed to the citizens.
Dr. Clarence James Samuel said that as the covid cases surge, the already stretched and strained health system cannot effectively utilise it's already scarce resources without the involvement of community in managing of mild cases, contact tracing and surveillance. He said that community ownership is the way forward and also an effective tool to fight stigma which is a main problem associated with the ongoing Covid crisis.
Mr Harminder Singh Hundal, Tehsildar, Khanna, informed that for making the masses aware about ways to save themselves from Covid 19, core group committees have been formed in 31 wards of Sub Division Khanna. He said that each committee comprises of ward councillor, teacher or head teacher from Education department, Asha worker from health department, a religious person and a prominent woman from the ward.
He appealed to the committee members to make Mission Fateh of Punjab government successful and perform their duties with utmost devotion so that victory over Covid can be scored. He said that the district administration as well as the Punjab government is committed for providing best healthcare facilities to the residents and appealed to the residents of Sub Division Khanna to follow all directions issued by the Punjab government if they want to keep everyone around them safe. He said that if any person feels that he/she has Covid like symptoms, they should immediately get their tests done totally free of cost from the government hospitals.
Mr Hundal said that if any person is tested positive but is asymptomatic, then that person can go for home quarantine. He said that Covid is simply one form of influenza and people should not worry about it as it is curable. He said that the best way to save yourself from Covid is to wear masks all time, maintain physical distancing and hand hygiene.
Dr Rajinder Gulati, SMO Khanna and Mr Ranbir Singh, Executive Officer, Khanna were also present on the occasion.