No waiting list for cremation of dead bodies of covid victims in Ludhiana: DC
Dead bodies of covid victims may be cremated at any cremation ground as per the wishes of family members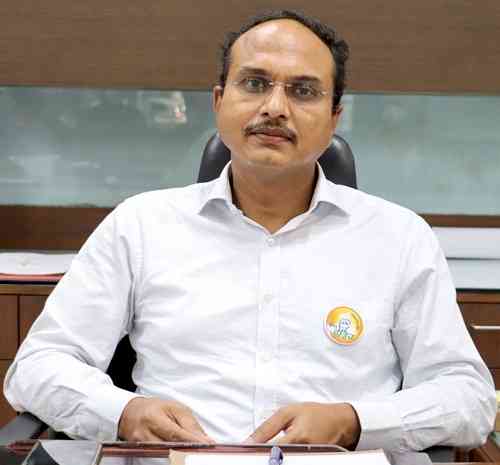 Mr Varinder Kumar Sharma, Deputy Commissioner, Ludhiana.
Ludhiana: Deputy Commissioner Mr Varinder Kumar Sharma today clarified that no particular crematorium has been designated specifically for the cremation of dead bodies of Covid 19 victims in Ludhiana and family members can cremate bodies of their loved ones at any cremation ground they deem fit as per their own religious beliefs.
In a press statement issued here today, Mr Sharma clarified that as per the protocol, all necessary precautionary measures of COVID have to be taken while cremating the bodies of Covid victims. He also clarified that there is no mandatory requirement to use either an LPG fuelled or electric crematorium for cremating the bodies as fuel wood can also be used. He said that in several other parts of the country and even in the other districts of Punjab , the cremation of dead bodies of Covid victims is being done using conventional fuel wood.
The Deputy Commissioner stated that no waiting list for cremation of dead bodies of Covid patients is issued by either the District Administration or health department officials. He said that people can cremate dead body of COVID victims as and when they want to and at any cremation ground they feel like. As per law Management of any cremation ground can't refuse to cremate the dead bodies of corona victims. He again reiterated that no particular crematorium has been designated specifically for the cremation of bodies of Covid 19 victims in Ludhiana.
He assured that the situation is completely under control and people should not panic. He said that for the welfare of residents and to ensure better coordination amongst district administration and private hospitals, a dedicated portal have been developed through which real time status of vacant beds in each hospital is being monitored so that in case, a particular hospital does not have vacant bed, the patient can be shifted to another nearby hospital. He assured the residents that now, no hospital would be able to hide information regarding the actual status of vacant beds. He said that the direct access of this portal is with Deputy Commissioner, Commissioner of Police and ADC (Development), besides the information is being shared with the private hospitals as well.
The Deputy Commissioner appealed to ludhiana citizens not to be carried away by rumours spread by certain elements.
MISSION FATEH: 136 NEW CASES REPORTED IN DISTRICT IN LAST 24 HOURS
Ludhiana: Deputy Commissioner Mr Varinder Sharma today informed that under the "Mission Fateh" of the Punjab government, the number of COVID 19 patients getting cured in district Ludhiana is increasing with each passing day. He said that there are 807 active patients in the district at present.
    He said that sincere efforts are being made to keep people safe from Covid 19. He said that a total of 136 patients (127 new patients from district Ludhiana and 9 from other states/districts) have tested positive in last 24 hours time.
    He further said that till date, a total of 57870 samples have been taken, out of which report of 56677 samples has been received, of 53731 samples is negative and report of 1193 samples is pending. He said that now, the total number of patients related to Ludhiana is 2566, while 380 patients are related to other districts/states.
    He said that unfortunately 60 people from Ludhiana and 37 from other districts have lost their lives.
    He informed that till date, 20021 persons have been kept under home quarantine in the district and at present, the number of such persons is 3627. Today, 287 persons were sent for home quarantine.
    He said that whenever District Administration and Health Department Ludhiana finds out that about any positive or suspected COVID 19 person, their samples are immediately sent for testing. Similarly, 1068 samples of suspected patients were sent for testing today and their results are expected shortly.
    Mr Sharma appealed to the residents to follow all directions of the Punjab government and if they would stay indoors, they would not only stay safe themselves, but would also contribute in keeping everyone around safe.