Don't let water accumulate in your premises and areas
ADC (D) asks health department to undertake extensive inspections and issue challans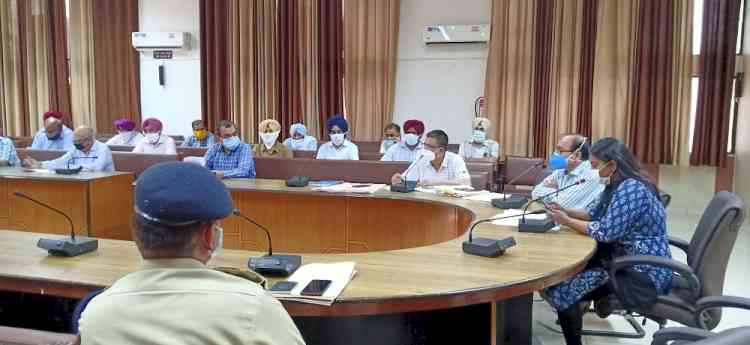 Ludhiana:    Additional Deputy Commissioner (Development) Mrs Amrit Singh have said that in view of the upcoming Monsoon season and ongoing Covid 19 pandemic, a mass awareness drive would be launched to motivate the residents to not let water accumulate in their premises, adjoining areas and to clear out stagnant water for preventing mosquito breeding.
    This was stated by Mrs Singh while chairing a meeting of District Level Dengue Monitoring Committee at Bachat Bhawan, here today.
    During the meeting, the ADC (D) issued clear directions to the officials for taking strict against the habitual offenders. She said that in view of Covid 19 pandemic, this time this disease should be taken seriously. She also asked the Local Government Department to submit their fogging schedule by July 7, 2020.
    She asked the officials to chalk out a comprehensive strategy with other departments to conduct daily inspections in high-risk areas of the district and to issue challans wherever the teams find dengue larvae. She also asked them to increase the number of challans. Further, intensified fogging drive would be initiated in the district in the coming days.
    The officials of education department were asked to make the students aware of preventive steps for dengue and Malaria during the online classes on a routine basis. The students should be encouraged to wear full sleeves clothes.
    On being informed by the health department that gambusia fish has been released in several village ponds in the district, the ADC (D) asked them to cover all the remaining ponds which can be checked at any time. She told the health officials to rope in labour department in this drive to check accumulation of the water in construction sites.
    She directed the Municipal Corporation officials to get checking done in all areas of Ludhiana city. The health officials told Additional Deputy Commissioner (Development) that sufficient teams have been formed and covering all the wards of the Municipal Corporation and spraying anti-larva drugs where they are finding breeding of mosquitoes. They also told the ADC about observing Friday as Dry Day when the checking of desert coolers is being done in all government offices, educational institutions, banks etc.
    Moreover, the health officials told the gathering that Aedes aegypti mosquitoes breed in clear water and flower pots, coolers, tyres, fridge trays and bird feeders and other utensils are common places where breeding is usually found. For more information, anyone can contact on control room number (0161-2444193). On this occasion Civil Surgeon Dr. Rajesh Kumar Bagga and officials of other departments were also present.