Ludhiana city becoming safer for women as incidents of chain snatching dip, police crack 94 percent of cases
Mutli-pronged strategy to check chain snatching: CP Gurpreet Singh Bhullar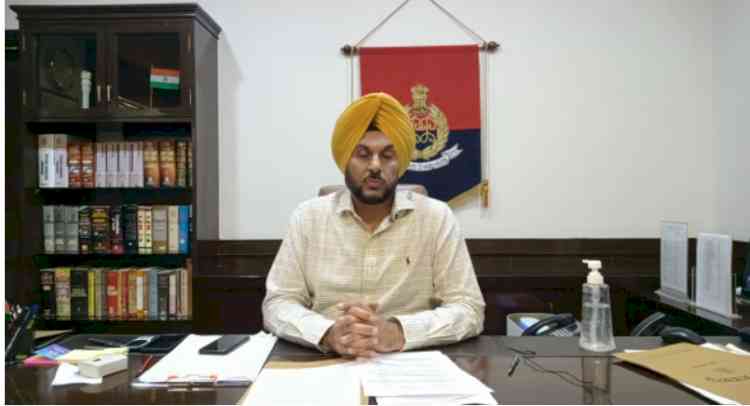 Gurpreet Singh Bhullar, Commissioner of Police, Ludhiana.
Ludhiana, October 6, 2021: With the sustained efforts by the commissionerate police bringing a dip in chain snatching incidents and cops solving 94 percent of the cases in the last 13 days as compared to first three weeks of September, Ludhiana city is becoming safe city for the women. 
In consonance with the commitment of the Punjab government to make cities safe for the women, the Commissionerate Police led by Police Commissioner Gurpreet Singh Bhullar who took over the charge on September 22, has been able to considerably control the incidents of chain snatching and tracing 94 percent of the cases of this crime with the arrest of 42 accused and 100 percent recovery of stolen property. 
As per the details, 51 incidents of chain snatching took place in Ludhiana from September 1 to September 21 which was reduced to 18 cases from September 22 to October 4. Besides, tracing percentage was only 33.33 percent in first 21 days of September which increased to 94 percent in next 13 days. The Cops have also recovered stolen property worth Rs 48.34 lakh. 
Commissioner of Police Gurpreet Singh Bhullar said that multi-pronged strategy has been adopted to curb this street crime in Ludhiana and said special thrust is being laid on eliminating snatching by marking hot spots including Ghumar Mandi Road, DMC Road, Kipps Market Sarabha Nagar, Urban Estate Dugri, Jalandhar Bypass, Gill road, Sherpur and Giaspura Chowk, surveillance through CCTVs and vigil on the criminals got bails recently. 
He said that PCR teams of the Commissionerate Police have been asked to be more responsive, prompt and effective for dealing with crime. Bhullar said that the PCR teams have a lot of responsibility in dealing with any crime as they have been mandated with the job of reaching on the spot of crime as soon as they get the information.
The Commissioner of Police further said that special focus also is being laid to ensure prompt and speedy response from the Police stations and PCR to any call made by the people regarding crime or mishap. 
Bhullar said that vigilance has also been stepped up in the city and senior officers have been asked to themselves monitor the nakas in their area and ensured that every officer discharges their duty efficaciously so that criminals don't dare to indulge in crime. 
Bhullar said that this is just a baby step and the ultimate goal is to make city crime free adding that with the active support and cooperation of the general public this target would be achieved in coming days.