LPU's Pharmaceutical Sciences' School endeavoured for protecting eyes from 'Digital Pollution'
LPU collaborated with Sankara Eye Hospital by organizing an expert interaction on the topic "Protection of eyes from digital pollution"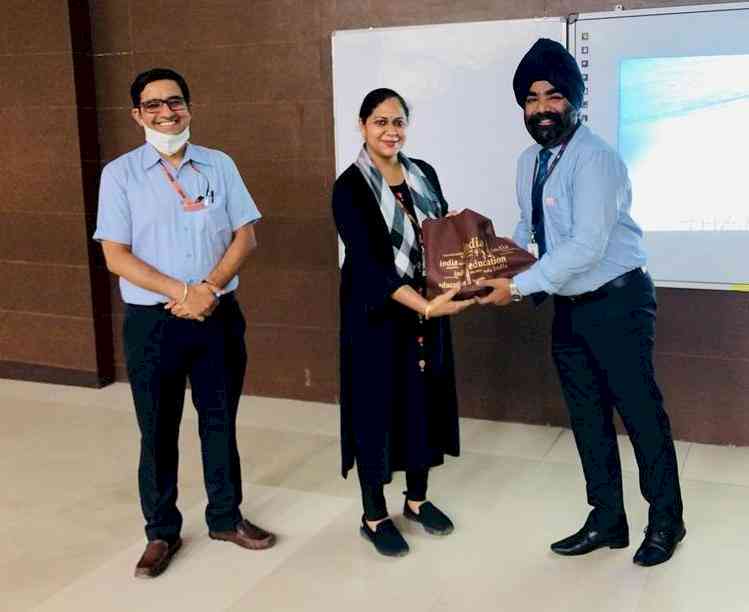 LPU staff members honouring Unit Head Sankara Eye Hospital Mr Ravinder Pal Chawla during an expert interaction on the topic 'Protection of eyes from digital pollution' at LPU campus.
Jalandhar, May 16, 2022: As a part of its responsibility towards the well-being of students and employees; the School of Pharmaceutical Sciences at Lovely Professional University organized an expert lecture on "Protection of Eyes from Digital Pollution". It was held in association with Sankara Eye Hospital (Ludhiana). The expert interactive talk was followed by an eye screening camp at the 'Uni-Hospital' of the university, where 250+ students and staff members gained useful tips for the care of eyes.  
For this, a team of 6 experts from the Ludhiana Hospital led by the Unit Head Mr Ravinder Pal Chawla and renowned Ophthalmologist Dr Sidharth Sharma visited LPU campus. The keynote lecture was delivered by Dr. Sidharth Sharma. Executive Dean at LPU's  Faculty of Applied Medical Sciences Dr Monica Gulati welcomed the expert team at the campus.
Delivering expert opinion, while interacting with students; Dr Sidharth shared that the human eye is a complex, and a magnificent organ that acts as a mirror to the world. It is important to take appropriate care of the eyes because of their significance. Talking about what digital pollution is, he shared that it includes all sources of environmental pollution produced by digital tools. This can be in relation to the manufacture, its functioning, and e-waste thereupon.
It was also informed that unabated exposure to light emitted by gadgets is harmful to the eyes. Regular eye-tests will ensure the health of eyes, and also help in the treatment of any underlying condition that may develop into a future concern. Technically, eyesight can take a beating from refractive errors and more. Natural light is very important for eyes to remain healthy. Only, a practitioner can identify underlying issues that are causing the eyesight to go bad. So, regular eye screening is also very important. 
On this occasion some ways were also suggested to reduce digital pollution. It was suggested to strive for a greener web, including thinking well about next tech purchase; recycling old electronics; using green search engines; monitoring inbox regularly; deleting unused tabs; turning down brightness; monitors should be turned off when not in use; and many such more. It is understood that pollution based emissions can be drastically reduced if computer users follow energy-saving guidelines.
LPU's School of Pharmaceutical Sciences and Sankara Eye Hospital also agreed upon conducting more such activities, in the near future, for the well-being of villagers in the surrounding areas of the university.