LPU's Para-Athlete Student set Asian Record at World Para Athletics Grand Prix-2021 in Dubai
Physical Education student at LPU, Nishad Kumar made India Proud by winning Gold and breaking Asian record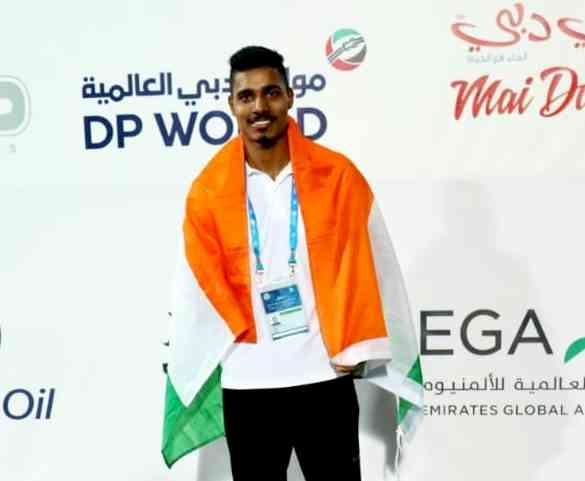 LPU student Nishad Kumar looking jubilant by winning Gold medal in men's high-jump & breaking Asian record at Dubai 2021 World Para Athletics Grand Prix.


Jalandhar: Physical Education student at LPU, Nishad Kumar glorified India by setting Asian record in the 12th Fazza International Championships for World Para Athletics Grand Prix-2021 held in Dubai. Breaking the record, Nishad jumped to the best till now 2.06m (meter) for the gold, and set a new Asian record in the men's high-jump category-T46/47. In this international tournament, the promising sports star of LPU, and India was better than Thailand's Chanaboon (1.93m) and Khasanov of Uzbekistan (1.90m).
Nishad's contributory winning efforts were the high points for India in ending its illustrious athletic campaign at the Championships with a grand haul of medals. After a shining-show from other Indian athletes, expectations were high from Nishad-the high jumper, and he proved it.
LPU Chancellor Mr Ashok Mittal congratulated Nishad for bringing laurels to the country and the university. Mr Mittal shared: "All at LPU are delighted that our athlete delivered what was expected from him. We wish him all the best for his future illustrious performances in national/international competitions of utmost importance." Hailing from district Una of Himachal Pradesh, Nishad is pursuing his graduation in Physical Education at LPU on 100% sports scholarship. Seeing his talent, LPU has enabled one-arm amputated Nishad to follow both of his passions-studies and sports, in consonance and ardently.
Nishad says: "Along with my national mentors, I am thankful to LPU and trainers, here, who chiselled me to be perfect in my field. I am indebted to LPU management as it offered me scholarship to continue with both studies and sports, which was otherwise very difficult for me to reach such a winning stage.  I managed a very good performance at championships, and I am feeling proud that I established a new record also. In fact, all of my hard work learnt at LPU paid off here." He added: "Now, I want to win the gold again and set a record in (postponed) Tokyo-2020 Paralympic games as well." For this, 21-year old Nishad has already booked a quota for India with his ranked (Bronze Medal) finish at the Dubai 2019 Worlds.
Known after the popular name of the Crown Prince of Dubai (UAE), the 'Fazza' Championships for People of Determination have become an icon of global Paralympic sports. It is the focus of attention for all teams that aspire to reach the world through the Dubai Gate.