Long standing job people vulnerable to varicose, spider veins, says expert
Varicose and spider veins can occur in men or women of any age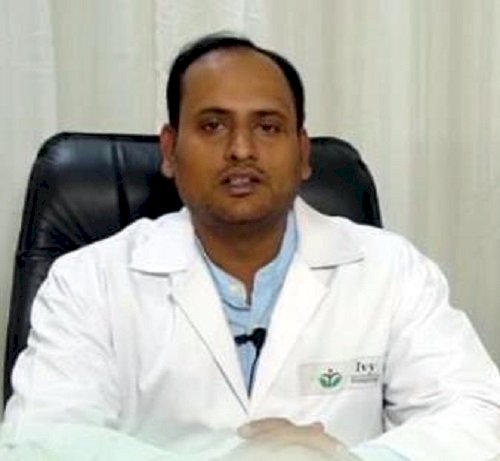 Dr. Srinath Shankar Rathod .
Mohali:  "Veins can become enlarged with pools of blood when they fail to circulate the blood properly. These visible and bulging veins known as varicose veins are often associated with symptoms such as tiredness, heaviness or aching limbs. In severe cases the  varicose veins can rupture or open sores (ulcers) that can form on the skin. Varicose veins are most common in the legs and thighs."
Dr. Srinath Shankar Rathod consultant- general and vascular surgery stated this while addressing an informative talk on 'varicose and spider veins' at Ivy Hospital , Mohali today.
Talking about spider veins, he said that small spider veins can also appear on the skin's surface. These may look like short, fine lines, starburst clusters or a web-like maze. Spider veins are most common in the thighs, ankles, and feet. They may also appear on the face, maintained Dr Rathod who was a senior resident at PGI for vascualr,gastrointestine, endocrine and hepatopancreaticobiliary surgery.
Varicose and spider veins can occur in men or women  of any age but most frequently affect women of childbearing years and older besides those having long standing job, obese person, farmers, police and army person, medical person. The family history of the problem and aging also increase one's tendency to develop varicose and spider veins, he remarked.  
Talking about causes of varicose and spider veins, Dr Rathod said that the causes of varicose and spider veins are absence or weakness of valves in the veins which prevents the backward flow of blood away from the heart or may cause the poor circulation. In other cases, weaknesses in the vein walls may cause the pooling of the blood. Less commonly, varicose veins are caused by diseases as phlebitis or congenital abnormalities of the veins. Venous disease is generally progressive and cannot be prevented entirely, he asserted.  
Informing about treatment, he said that caricose and spider veins may be initially a cosmetic problem. But in long standing cases of varicose veins may progress to ulcers, dis-colouration of skin, bleeding, deep vein thrombosis, swelling of leg typically require treatment. Check with a doctor if you are uncertain, he maintained.
The procedures are available to treat varicose and spider veins at Ivy Hospital. For varicose veins we have at Ivy a newer treatment designed as LAST therapy or treatment for varicose as a day care procedure with no scar, no pain depending on patient condition, informed Dr Rathod.