Lohri of baby girls celebrated at health and wellness centre Phullanwal
Healthy babies and mothers were honoured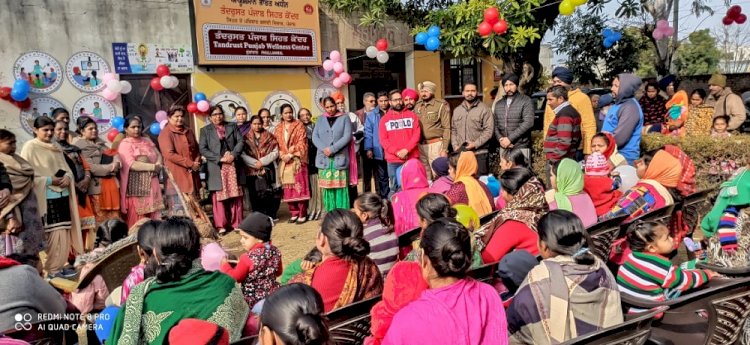 Lohri of baby girls being celebrated at health and wellness centre at Phullanwal in Ludhiana District.


Ludhiana: The Lohri of baby girls was celebrated at Health and Wellness Centre, Phullanwal, near here today. This function was organised by the Health & Family Welfare Department under the supervision of Civil Surgeon Dr Rajesh Kumar Bagga and Senior Medical Officer Pakhowal Dr Sandeep Kaur and in collaboration with Human Rights Protection Organisation. The function was also attended by RMO Dr Kamaldeep Kaur, Community Health Officer Mrs Balpreet Kaur, organisation's founder Dr Geeta, president Mr Gurwinder Singh Toor, besides several others.
On this occasion, a bonfire of Lohri was organised and jaggery, rewari's, peanuts etc were distributed to the audience. Healthy mothers and babies were also honoured on the occasion. The mothers who were honoured today included those who have given their own milk to their baby for at least 6 months and complete immunisation of the baby has been completed.
While addressing the gathering, Dr Kamal and Mrs Balpreet Kaur said that it is need of the hour we should all check the social evil of female foeticide and encourage girl children to excel in life.
Prominent among those present on the occasion included pharmacist Mr Harjinder Singh, MPHW Mr Gurbaksh Singh, ANM Mrs Karamjit Kaur, LHV Mrs Mahinder Singh, Mrs Jeet Kaur, besides several others.