Locking mobiles through fingerprint lock can prevent stealing of phone data aver Experts at Amity University 
The webinar was attended by hundreds of students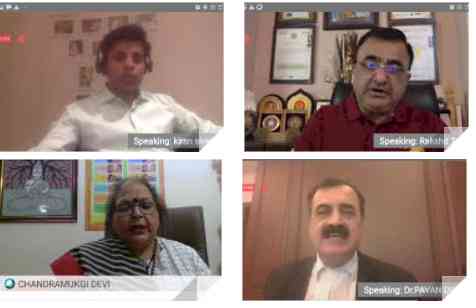 A national webinar on "Harassment of Women in Digital Space" was jointly organized by Amity Law School, Noida and National Commission for Women. Views were shared on how the growing reach of the Internet, ICTs and the wide diffusion of social media has presented new opportunities and enabled various efforts to address Violence Against Women (VAW) and how they are also being used as tools to inflict harm on women. It was also discussed how Cyber-VAW is emerging as a global problem with serious implications for societies and economies around the world. Experts shared how small measures including locking mobile phones using fingerprint lock can prevent stealing of phone data and subsequent harassment. 

Smt. Chandramukhi Devi, Member, National Commission of Women stated that the present times belong to women and it is the need of the hour to change the thought of society towards them. She added that ever since technology has taken CenterStage in our lives, cybercriminals have taken women as their target. She shared how NCW took an initiative to organize webinars on this subject to educate and make women aware against cybercrimes. She asked women affected by cybercrimes to come forward, share & report these crimes and seek help from cybercrime cells. She called for working constantly against cybercrimes, aid the victims, spread awareness, and have stringent laws to prevent harassment of women and children in the digital space.  

Mr. Kiran Sivakumar, Superintendent of Police, Central Bureau of Investigation, Government of India averred that stories of assaults on women and girls are an everyday occurrence across the world and strata of society. He stated that technology related violence against women are often not reported and how technology instead of becoming a saviour for women becomes a hindrance as it aggravates such crimes. He called for recognising the emerging forms of crimes and categorizing them to further act on them. He shared that cyber stalking, image manipulation, cyber harassment are quite common forms of harassment that cause great deal of damage and affect their image and confidence. He called students to flag these acts and speak out to stop these crimes and how with increasing presence of women online makes them vulnerable to these acts. He stated that there were laws for the cyber world through the IP Act and it is essential to make people aware about them as technology related crimes were on the rise. Mr. Sivakumar called increasing women's digital literacy, especially for the marginalised ones to ensure digital privacy and stressed on reporting anything that they found uncomfortable across digital platforms.  
 
Dr. Pavan Duggal, Advocate, Supreme Court of India; Founder & Owner Pavan Duggal Associates; Conference Director, International Conference on Cyberlaw, Cybercrime & Cybersecurity talked about emerging cyber law issues. Dr. Duggal stated that the country was not fully prepared to protect women as the law was not formulated to protect women or children in the cyberspace. He shared that 2008 was when the Indian cyber law was last amended, and social media has now become a central part of our lives that needs to be addressed in the ICT act. Dr. Duggal shared that increasing reliance on dark net is allowing the perpetrators to gradually target women and children. He averred how the pandemic with its increasing reliance on technology has also added on to the vulnerability of women and children against cyber harassment. He stressed on inculcating a culture of distrust and mistrust to prevent misuse of privacy and personal data. He called for sharing information on a need-to-know basis and asked them not to record any self-incriminating content.  

Mr. Ritesh Bhatia, Founder & Director, Cybercrime Investigation and Cyber Security talked about 'Trending cybercrimes against Women'. He gave detailed insights about various types of prevailing cybercrimes including sextortion, mobile spying (sitting in a remote location using a spyware), deep nude done using AI etc. He suggested to have a fingerprint lock on the phone to prevent any kind of misuse and suggested against participating in popular social media challenges and sharing their personal images. He called girls to come forward to report cyber harassment and not allow men to have the power to commit such crimes.  

Mr. Rakshit Tandon, Founder & Director, Hackshala/Codesnag, Hackdev Technology Pvt. Ltd., Consultant – Mobile Association of India, Advisor- Cyber Peace Foundation talked about breach of cloud data and the precautions that need to be taken to prevent this. He advised students to be careful of their digital footprint as it cannot be deleted. He suggested students to protect their digital identity as there is no privacy online and called for digital empowerment. He further advocated reporting such crimes and flag it off to higher authorities in case no initial action is taken. Mr. Tandon advised frequent change of passwords and using multi-layer authentication system.  

Ms. Nirali Bhatia, Cyber Psychologist, Psychotherapist, TEDx Speaker, Founder, Cyber B.A.A.P. suggested prevention strategy to avoid harassment by having awareness, following cyber hygiene and being vigilant.  

Ms. Puneet Bhasin, Advocate, Cyber Law Expert, Practicing in Technology, Media & Intellectual Property Law in Cyberspace shared her insights on revenge porn and how to prevent such instances. She advised for maintaining a low-key content on the internet and not share in depth details.  

Prof. D.K. Bandopadhyay, Chairman, Amity Law School, Noida averred that ALS approached NCW to conduct this seminar as there is need for deliberation & policy intervention in this issue.  

Prof. (Dr.) Aditya Tomer, Addl. Director /Jt. HOI, Amity Law School, Noida welcomed the gathering of distinguished guests. He stated that women of all age groups experience harassment in the digital space and how it was essential to make them aware and be provided with practical ideas & successful strategies.  

Also present on the occasion was Prof. (Dr.) Shefali Raizada, Addl. Director/Jt. Head, Amity Law School, Noida. The webinar was attended by hundreds of students who also sought answers to their various queries from the host of experts' present.