Lifestyle Modification: A key to prevention of heart diseases: Dr Yashpaul Sharma
Delivered a guest lecture at CMCH, Ludhiana on 'Recent advances in Interventional Cardiology'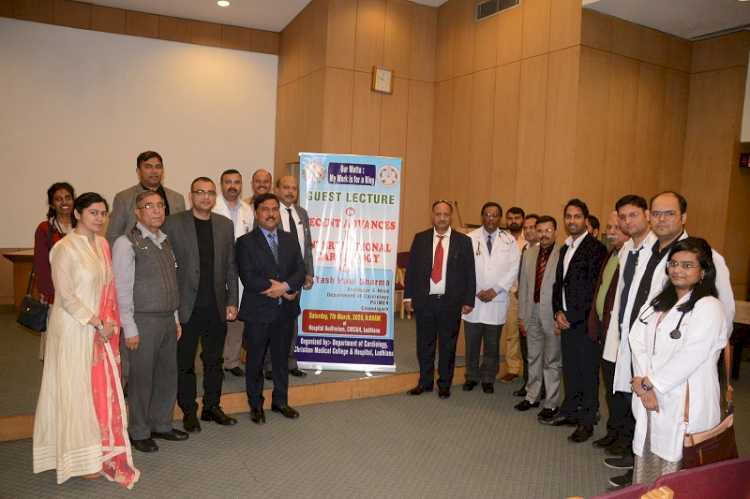 Ludhiana: Dr. Yashpaul Sharma, Professor and Head of Cardiology Department of PGI Chandigarh delivered a Guest lecture at Christian Medical College and Hospital, Ludhiana today on 'Recent advances in Interventional Cardiology'.
 
 Dr. Sharma in his lecture entitled "Recent Advances in Interventional Cardiology" presented the latest techniques used to treat patients with heart attack. He described the PGI experience in treating patients with cardiogenic shock (Heart attack with low blood pressure) with newer techniques in angioplasty and stenting.
 
Dr.Sharma also stressed on the need for life style modifications and said that steps like dietary restrictions, regular exercise and Yoga are the key to prevent the occurrence of heart attacks.
 
He informed that low hemoglobin level can also be responsible for causing heart failure and correction of low hemoglobin levels can cause complete recovery from heart failure..
 
Dr. Rajneesh Calton, Professor and Head, Department of Cardiology, informed that all facilities are available at the Cardiology Department of C.M.C Hospital to treat patients with Heart attack and its complications.
 
Dr. William Bhatti, Director, C.M.C hospital informed the hospital is committed to provide even the most advanced treatment to the patients with heart diseases at affordable rates.
 
Dr.Jayraj Pandian, Principal CMC and Dr.Anil Luther, Medical superintendent of the hospital also addressed the gathering. The guest lecture was attended by over 300 doctors, nurses, staff and students of the hospital.