Life and colour at its Best in Bhangra World Cup at Khalsa College
Bhangra World Cup will be held every year: Principal Dr. Samara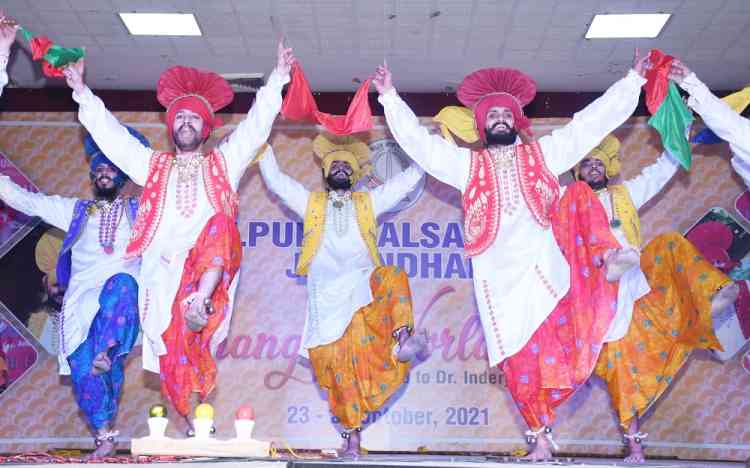 Jalandhar, October 24, 2021: Liveliness and colourfulness were seen at its height on the second day of Bhangra World cup at Lyallpur Khalsa College in which cabinet minister for higher education Pargat Singh acted as the chief guest. 
The College President Balbir Kaur and Joint Secretary Jaspal Singh Waraich welcomed the chief guest who in his address lauded the efforts made by the college in promoting and preserving Punjabi cultural heritage. Speaking on the occasion the college Principal Dr. Gurpinder Singh Samra said that the higher education sector was feeling quite optimistic on the appointment of Pargat Singh as the Minister for Higher education. He also informed that on the second day a total of eleven teams were giving onstage performance which included Real Folk Bhangra Academy, GHG Khalsa College Gurusar Sadhar Ludhiana; Folk Art Lover Academy Chandigarh; Anakhi Mutiyaraa; GNE Ludhiana; Guru Nanak Dev University Amritsar; Singh International Cultural Academy; Chandigarh University; Bhangra Kingz Youth Welfare Club Amritsar;  Khalsa College Amritsar; Khalsa College Delhi (Guest performance). 
In the evening. Parminder Singh Heer SP Rural Jalandhar was the chief guest. Principal Dr. Samra welcomed him. The Chief Guest congratulated the College for the Bhangra World Cup and lauded the enthusiasm of the Bhangra artists. The performance of the participants was adjudged by a panel of five judges Davinder Singh, Harjinder Singh Harji, Hobby Dhaliwal, Daljit Singh Khakh and Ravinder Ranguwal which declared Chandigarh University as the first position winner G.N.E. Ludhiana  as second position winners whereas jointly third position went to G.H.G. Khalsa College Gurusar Sadhar Ludhiana and Singh International Cultural Academy which were given prizes of Rs. 81,000/-, 41,000/- and 21,000/- respectively. Jagjot of GHG Khalsa College Gurusar Sadhar Ludhiana was declared best dancer, whereas second and third positions went to Ramandeep, Chandigarh University and Asish, Anakhi Mutiyaraa. The live telecast of the event was shown on YouTube channels of the college along with TV channels such as BBC Punjabi, 5aab TV, V24, Global News, Plus TV, Punjab1 TV. 
On this occasion, letter of appreciation was awarded to late Dr. Inderjit Singh which was received by his daughter Prof. Ekjot Kaur. In addition, Lifetime Achievement Award was given to folk singer Sarabjit Singh Cheema and renowned Bhangra artiste and Bhangra director Jagdeep Singh Goga for their contribution to Punjabi folk dance Bhangra. Apart from this all the participating teams were given a prize of Rs. 11000 each by the College Governing Council. The stage on the occasion was managed by Dr. Surinderpal Mand and Dr Upma Arora. Dr. Palwinder Singh Dean Cultural Affairs and staff and students of the college.