LIC women employees celebrate 110th International Women's Day 
Event held under banner of NZIEA, Women Sub-Committee in LIC Office, Dugri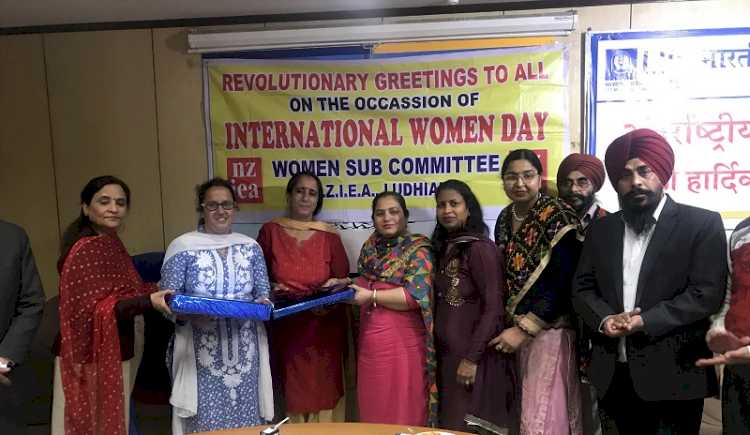 Ludhiana: LIC women employees under the banner of the Northern Zone Insurance Employees Association, Women Sub-Committee celebrated the 110th International Women's Day in LIC Office, Dugri, Ludhiana.  While conducting the forum, Renu Gupta told that all the women working in all the eight branches in LIC Ludhiana city took part in this function.
While issuing the press note, the convenor of the Women's Sub-Committee, Ritu Abaan said that since the year 2006, the Women Sub-Committee has been continuously celebrating this day.  Giving specific information, she said that we have not limited this day to only celebrate, but we celebrate this day by associating it with social activity.  In the past years, our women sub-committee has been distributing books, copies, water coolers, school uniforms & had contributed to build the washrooms for school etc.
On the 110th International Day, the Women Sub-Committee has pledged to submit the full-year admission and school fees of +2, a needy girl students of Ramgarhia Senior Secondary School, Ludhiana.  Apart from this, school bags, copies and stationery items have been distributed to another needy girl students of + 2.
Northern Zone Insurance Employees Association felicitated the Purti and Priya Suri, convener of the Creative Study Circle, Ludhiana for free coaching to 55 candidates for the recruitment of assistants in LIC, thanking them for their work and inspiring support, especially they did.
Amarjit Singh, Divisional Secretary, P.P. President Northern Zone Insurance Employees Association.  Divisional President, and Senior Divisional Manager, LIC Ludhiana Division, Shri Ganesh Lal, while congratulating the women, said that in LIC Northern Zone Insurance Employees Association is playing very important for women empowerment.