Launch ceremony of novelette The Dark Mystery authored by 14-years-old Abhipsit
Harish Gupta, the Head of Builder Association was Chief Guest at launch ceremony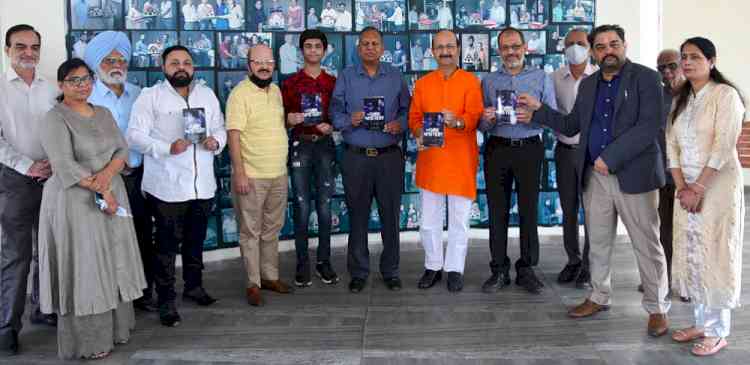 Chandigarh: Harish Gupta also awarded  Abhipsit with Appreciation award  for his next book.
Chandigarh. The Head of Builder Association  was Chief guest at  the Launch ceremony of NoveletteThe Dark Mystery authored by 14 year old Abhipsit Bajpai.
Abhipsit is a student of class tenth in Manav Mangal School, Panchkula.
Abhipsit said that the Novelette is based on  Fiction and Suspense. He started by writing just four pages. He shared  the pages with his classmates to read. Friends mesmerised with first 4 pages persuaded Abhipsit to complete the mystery. Abhipsit then shaped the story into a book. This book has been published by Rigi
Publication.
Senior Advocate Ashutosh Bajpai, Educationist Mrs. Vandana, Dr. Rakesh Kumar Sood, Dr.Manminder Singh Anand, Dr. V V Kuchroo, Sir N Baburao, Dr. Jernail Singh Anand and Sir V K Gulati and Advocte S K Sinha   were present in ceremony.
Head of Builder Association Chandigarh  Harish Gupta said  that it has always been
his approach to hold virtuosity in high regard. That's why when he got to know about Abhipsit's book, he immediately appreciated him. He further said , "Despite tiny size …the book has really nice content. The vision of author in this age is considerable."
Abhipsit, student of Manav Mangal School, Panchkula told that he has participated and won many quizzes with his friends for his school. Abhipsit told that his prominent quiz mates are Dishita Gupta, Parth Goel, Aryan Wallia, Sattyadeep Garg and Suvinay Goel. His teachers Mrs. Beenu Singh and Mrs. Amrita Priya play the major role for quiz preparation.