LABOUR DAY CELEBRATED ONLINE AMID COVID-19 LOCKDOWN
APEEJAY SCHOOL CELEBRATES LABOUR DAY ONLINE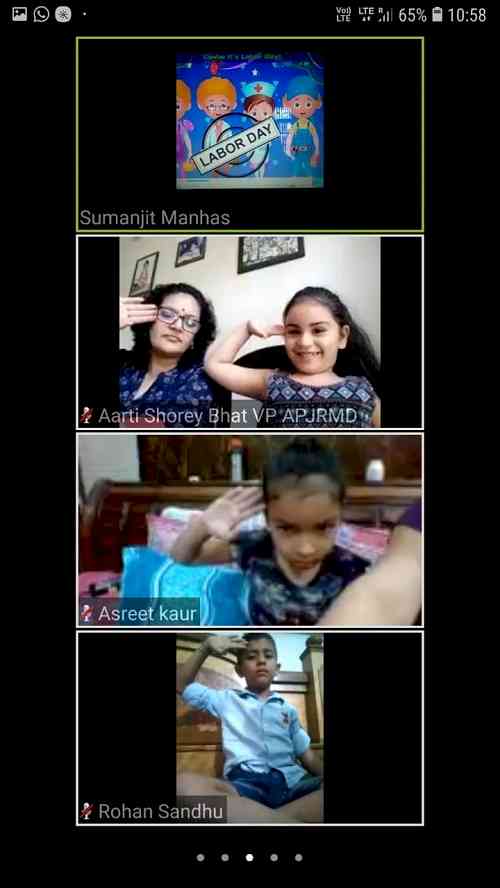 Jalandhar: Apeejay School, Rama Mandi celebrated LABOUR DAY online under the kind stewardship of the Vice-Principal Mrs.Aarti Shorey Bhat so that the students learn that labour is one of the greatest element of society, the great substantial interest on which we stand.
To commemorate the Labour Day and to appreciate and thank the selfless service who work with full dedication and ensure hygiene and security, the students of all classes celebrated LABOUR DAY with full zeal where they were acquainted with the history behind labour rights and the significance of the day in the present time.
To make the day special for the students, numerous online activities were organized by the teachers like Handmade Greeting Cards, Collage Making, Poster Making, Self Composed Poem Writing, Bouquet Making to express the love and gratitude towards workers.
The main motive of the entire celebration was to make students learn the importance of dignity of labour and the need to respect each and every person for whatever they do to enhance the stature of the country. Students also realized that success can only be achieved if all people value each other's work and decide to contribute in their own individual way, because it is only little drops of water that finally make a large ocean. Students took photographs while making cards, posters, collage and shared their artistic work on school online groups to encourage others in the celebration.    
Vice-Principal Mrs. Aarti Shorey Bhat appreciated the value of hard work displayed by all the workers during the pandemic and congratulated the students and members of staff in making this day special in many ways.