Laborers to be provided financial aid, ration and sanitization
The worst affected section is the daily wage workers and labourers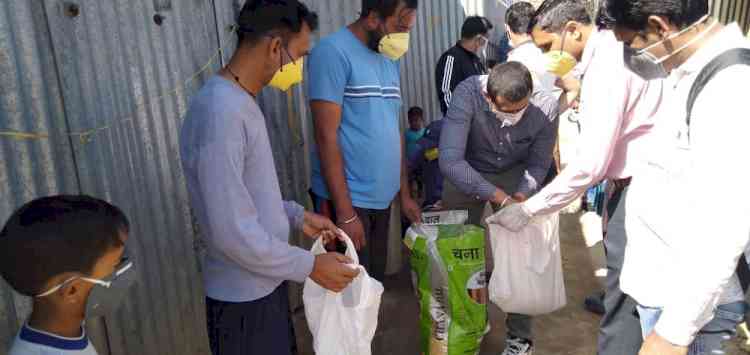 Gurugram: The pandemic of COVID-19 has taken a heavy toll on the lives of every Indian citizen. The people are confined to their homes and are in a dilemma. The worst affected section is the daily wage workers and labourers. The Central and State Governments are taking relevant measures in order to help them financially as well as many organizations and individuals are coming forward to support these needy and marginalized people.  
Signature Global, a renowned name in affordable housing have come forward with an aim of to help and support those who works in construction sites financially as well as by providing them essential things like ration, vegetables, fruits and mask. The regular supply of these things have been initiated to help them so that they may not  think about migrating back to their hometowns. The body temperature of all the workers are constantly being monitored, and they are being encouraged to keep their surroundings clean. Signature Global has planned to extend its philanthropic activities in these distressing times to nearby areas like Faridabad, Noida and Ghaziabad.
Elaborating more on the group's willingness and efforts to help the workers, Pradeep Aggarwal, Founder And Chairman, Signature Global and also the Chairman of National Council of Affordable Housing said, "The phase of lockdown must not bring any undue trouble or distress to our workers, we are ensuring that their basic needs of food and cleanliness are well taken care of. We are taking care of all labours stationed in hutments, which are being sanitized time to time  at all of our sites -- Gurgaon, Karnal and Vaishali.  We are living in the comfort of our homes as we are financially sound and stable, on the other hand the people working strenuously to deliver us these comforting homes are in a state of hopelessness. It is our utmost duty to support them in these testing times. The administration and government are relentlessly working, it is our responsibility as supportive denizens to lessen their burden with our substantial efforts. These times are stressful, we can only hope and pray to recover from it soon."