KMV's Suman Khurana bestowed with International Super Honorary Doctor of Philosophy (PhD) Degree
Suman Khurana gives credit of this Award to the institution's Principal Dr Atima Sharma Dwivedi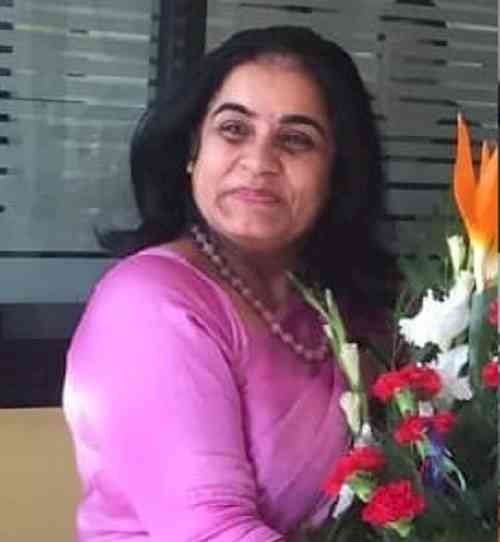 Mrs Suman Khurana.
Jalandhar: Ms Suman Khurana, Head, PG Department of Computer Science & Application, Kanya Maha Vidyalaya, Jalandhar has been honoured with International Super Honorary Doctor of Philosophy (PhD) degree with Gold Medal by University of Discipleship Institute for Apostolic Ministries, in recognition of her Outstanding Services & Contribution towards the nation. Mrs. Suman Khurana has made significant contribution to train the women, senior citizens and young girls in the field of IT skills. She has organised Free Computer Training Workshops every year to empower the women. She was also bestowed with many appreciations by Police Commissionerate for imparting Computer training to 180 Women Police cops. She has got recognitions for her services by Jalandhar Administration for Digital Awareness Campaigns of Govt. of India, by Cyber Defence Academy, Cyber Olympiads and Internshala for her significant contributions. She has been the Dean Placements of KMV and has worked tirelessly - helping the students in getting the best placements. She also organises Orientation Programmes, conducts training sessions and helps students for interview preparations. More than 700 young girls have been placed in world class MNCs by her efforts. Her positions of responsibility have been numerous, she has delivered 15 Expert Lectures at various colleges, institutions and Doordarshan, authorship of 20 books, 80 Paper Publications and Presentations in India and abroad. She has NPTEL and Udemy MOOCs Certification and also inspires her students for online certifications and many of her students have now obtained MOOCs certifications. 

Mrs. Suman Khurana gives credit of this Award to the institution's Principal Dr. Atima Sharma Dwivedi, who has always given her number of opportunities to explore new ideas and serving people in this regard. 

Prof. (Dr.) Atima Sharma Dwivedi congratulated Dr. Suman Khurana for this prestigious recognition and averred that she will continue to work in this direction with more zeal and commitment. She further maintained that we at KMV always aspire to become the best in the league and this achievement of Mrs Suman speaks a volume about the commitment of KMV towards imparting world class quality education to the students.