KMVites bag laurels in various competitions under SVEEP
Principal congratulated the brilliant students on their achievement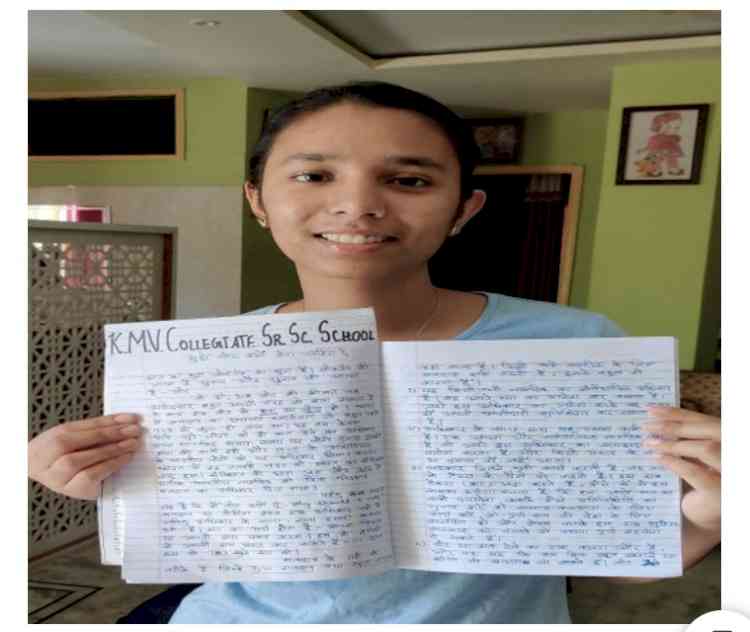 Jalandhar: Kanya Maha Vidyalaya always aspire to achieve excellence both in academics and extra curricular activities as well. In another new achievement, students of KMV Collegiate Sr.Sec. School, Jalandhar participated in various month long online competitions held under SVEEP. 

All the students were to express their views on the topic 'Why Should I Vote?'. Students put forth their views on the topic through various competitions like Online Slogan writing, Essay Writing, Quiz, Rangoli making, Speech giving and Poster Pasting etc. Making KMV proud, students also bagged top positions for their creativity and knowledge regarding the topic.

Smriti Dhiman of 12th Arts bagged 1st position in both Slogan writing and Essay writing Competition. Simran Arora of 12thArts stood first in Quiz. Nandini of 12th Arts stood first in Speech giving and Jinshika of 12th Non Medical bagged first position in Poster pasting and Rangoli making competition. 

Principal Prof. Dr. Atima Sharma Dwivedi congratulated the brilliant students on their achievement. She averred that it is very important that students should understand their responsibility as a voter, and they should also create an awareness in the society regarding this pertinent issue. She lauded the efforts of Mrs Veena Deepak, Co-ordinator, KMV Collegiate Sr Sec School and other faculty members for motivating the students to participate in this important event.