KMVites bag 6 gold and 6 silver medals in International English Olympiad Exam
Around 120 students participated in test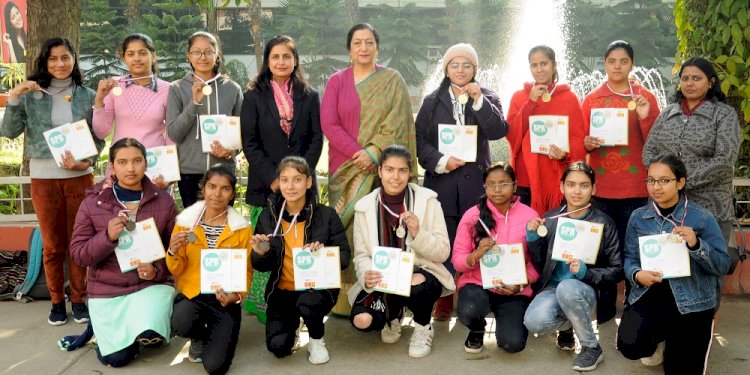 Jalandhar: 10+1 & 10+2 students of K.M.V Collegiate Sr. Sec. School, Jalandhar participated in first level International English Olympiad (IEO). 
Around 120 students participated in this test. Students named Khyati, Avasthi, Kashish Verma, Bhavneet Kaur of class 11th and Pratiksha, Prerna, Taranjeet Kaur of class 12th bagged gold medals in the Olympiad. Also Six students named Birpratap, Ekta, Sharda, Gursimran kaur of 11th and Milena, Tanisha and Sweety of class 12th bagged silver medals. While Rupali, Sanjana, Muskan, Aarti Sharma, Harshpreet Kaur, Arpinder Kaur have been awarded bronze medals. 
Principal Prof. (Dr.) Atima Sharma Dwivedi congratulated the winners for their remarkable achievement & averred that these type of competitions provides a good platform to the students to showcase their talent. She further maintained that KMV provides the most suitable ambience for the academic growth of the students. She lauded the efforts of Dr. Neetu Chopra, co-ordinator of exam and also blessed the student for bagging such prizes. Prof. (Dr.) Atima Sharma Dwivedi also inspired the students to win such laurels in future also to make KMV proud.