KMV successfully commences 9 day online free job ready program for students
Principal averred that these kind of programs are a regular feature at KMV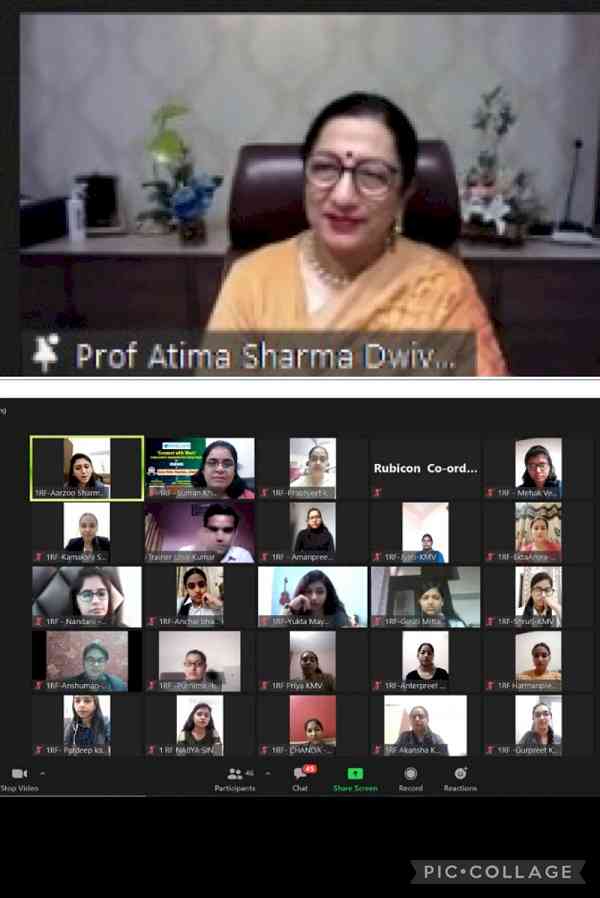 Jalandhar: Kanya Maha Vidyalaya- the Heritage & Autonomous institution, Seat of Women Empowerment with Top National and State Rankings by India Today Survey of Best Colleges 2020 (various categories) & Outlook Magazine always strives ceaselessly to enlighten and empower women. Education at K.M.V. is a unique amalgam of traditional learning and futuristic vision.
KMV is committed to preserve the rich cultural legacy and traditional values along with  modernity  conducive to the holistic development of an individual's potential.  As per KMV's  mission to make the students employable,  KMV's Placement Cell  successfully commenced 9 day online free  Job Ready Program with Maharashtra based  Company of Skill Development that  imparts training  in managing the process of training and deploying resources.
This specialised program for KMV students aims at improving the employability skills of the students. KMV students  will benefit a lot from this excellent opportunity that is completely free of cost. Various modules of the program deals in Organisational Structure, Public Speaking, Presentation Skills, Group Discussion & Personal Interview etc. which are going to be quite  relevant in the working environment.  
More than 100 students are getting the benefit of this program that will be running daily in two batches. 
Principal Prof. Dr. Atima Sharma Dwivedi averred that these kind of programs are a regular feature at KMV as we always strive to impart practical skills to the students so that the students can excel in this competitive world. 
Principal lauded the efforts of Dean Placement Cell, Mrs. Suman Khurana for providing this wonderful opportunity to the students and also motivated the students to learn every aspect of the program diligently.