KMV students make posters to spread awareness about novel coronavirus     
Students continues awareness campaign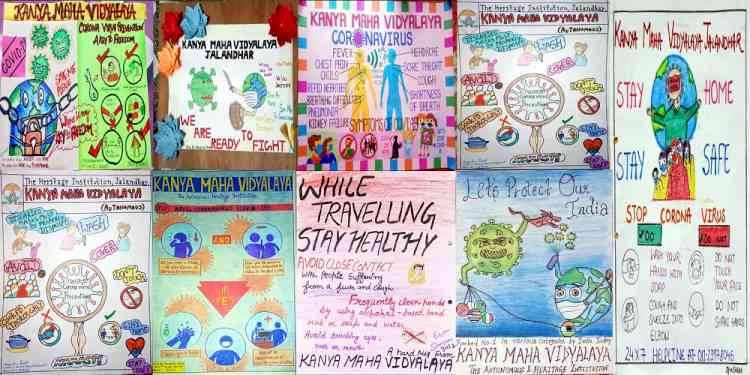 Jalandhar: Kanya Maha Vidyalaya (KMV) organized an online poster making competition for the students on the topic Novel Coronavirus, its precautions & safety measures etc. The competition was organized by the Department of Student Welfare. The competition was held online in which students from all the streams participated with full zeal and enthusiasm. Students made their poster at home on the given topic & also pasted their posters in their localities or outside their homes in order to spread the awareness about this disease in the society. Students during making of their poster were also instructed to use the materials that are available at their homes so that they should not get out of their homes.
Principal Prof. (Dr.) Atima Sharma Dwivedi averred that the students of KMV are fully rounded personalities and always participate in plethora of meaningful activities organized by the college for their holistic development. As students are at their home due to lockdown, they are also striking a great balance between their academic and non academic activities. This type of activities inculcates a spirit of responsibility in the students as they become aware of their responsibility of spreading awareness in the society regarding this disease. She further maintained that Madam Principal also lauded the efforts of Dr Madhumeet, Dean, Department of Student Welfare and other faculty members for motivating the students to participate in this noble initiative. She adumbrated that KMV will continue its awareness campaign on regular basis so that students and faculty members of KMV can make their humble contribution to this humanitarian cause. 
Mrs Rashmi, Dr Neetu, Mrs Sadhna Tandon and Dr Pardeep Arora were the judges for the competition.
The winners of the poster making competition were:
1.    First Position- Simranjeet Kaur of BA Sem II
2.    Second Position- Muskan Mehta of BA Sem IV
3.    Third Position- Nandini of B. Com( Regular) Sem IV