KMV organises webinar on diabetes and its management
Dr Akshata Desai, Consultant Endocrinologist, Apex Hospital, Jalandhar was the resource person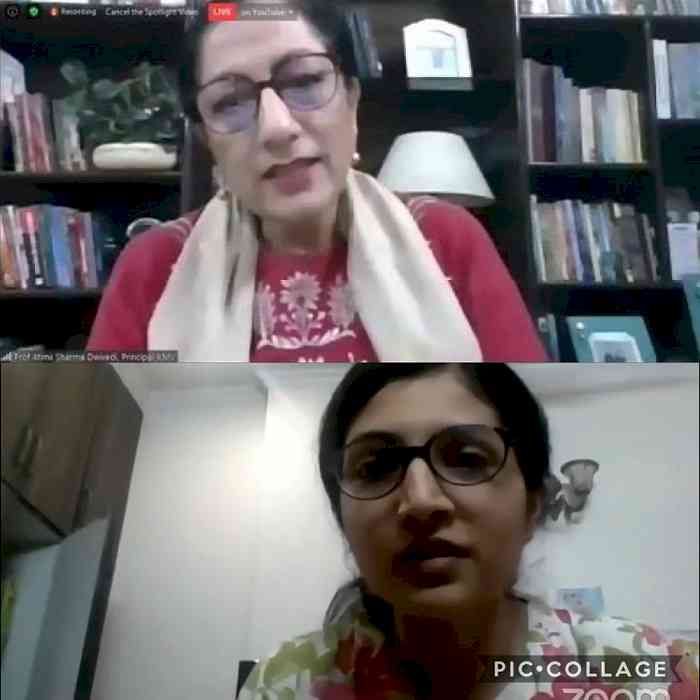 Jalandhar: Kanya Maha Vidyalaya organised a webinar on Diabetes & its Management. The webinar was organised by the Department of Home Science. The webinar was attended by more than 250 participants with full zeal & enthusiasm. 

Dr Akshata Desai, Consultant Endocrinologist, Apex Hospital, Jalandhar was the resource person. Dr Akshata during her talk enlightened the participants about the causes & symptoms of diabetes. She stated that diabetes is a type of disease which can give birth to various other diseases such  as heart problems, kidney disease & liver disorders etc.  She emphasised on the importance of awareness and modifications in lifestyle in the management of diabetes &  how a balanced diet and portion control along with regular vigorous exercise of at least half an hour in daily schedule can help in managing diabetes. After the session, many participants asked their queries from Dr Akshata to which she responded very eloquently. 

Principal Prof Dr Atima Sharma Dwivedi averred that in today's world this kind of health education is very much important as we should all be aware as to how to manage all these kind of illnesses so that one can live a healthy & happy life. Madam Principal lauded the efforts of Mrs Neeti, Head,  Department of Home Science and all the faculty members for successfully organising the webinar.