KMV organises webinar on artificial intelligence and data science
The webinar was attended by more than 250 participants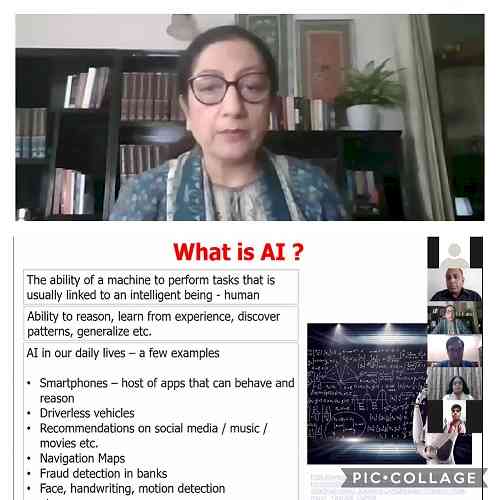 Jalandhar: Kanya Maha Vidyalaya organised a webinar on Artificial Intelligence and Data Science. The webinar was organised by the PG Department of Compute Science and Applications. 

The webinar was attended by more than 250 participants with full zeal & enthusiasm. Mr Sriraman Rajgopalan Specialist AI and Data Science from Industry was the resource person. Mr Sriraman Rajgopalan during his talk enlightened the students with the  knowledge of Artificial intelligence, Machine learning and Data Science. He also discussed various Machine learning predictive models and various tools that can be used for Data Science. He stated that AI and Data Science is an upcoming area and is very useful fields. It was overall a great learning experience for all participants. After the lecture, an interactive session was also organised by the students in which many inquisitive students asked their queries from Mr Sriraman.
Principal Prof Dr Atima Sharma Dwivedi averred that the students are really lucky to have such an amazing exposure at this age and this kind of interaction should be a regular feature for the students. She further maintained that KMV is offering futuristic education and has started B.Voc in Artificial Intelligence and Data Sciences for providing quality based skill education to the students. 

Principal lauded the efforts of Mrs Suman Khurana, Head, PG Department of Computer Science and Applications, Dr Pardeep Arora and all the faculty members for successfully organising the event.