KMV organises virtual interaction with scientists of NIPGR New Delhi under DBT Star College Status
The resource person for the event was Dr. Debasis Chattopadhyay, Scientist VII, NIPGR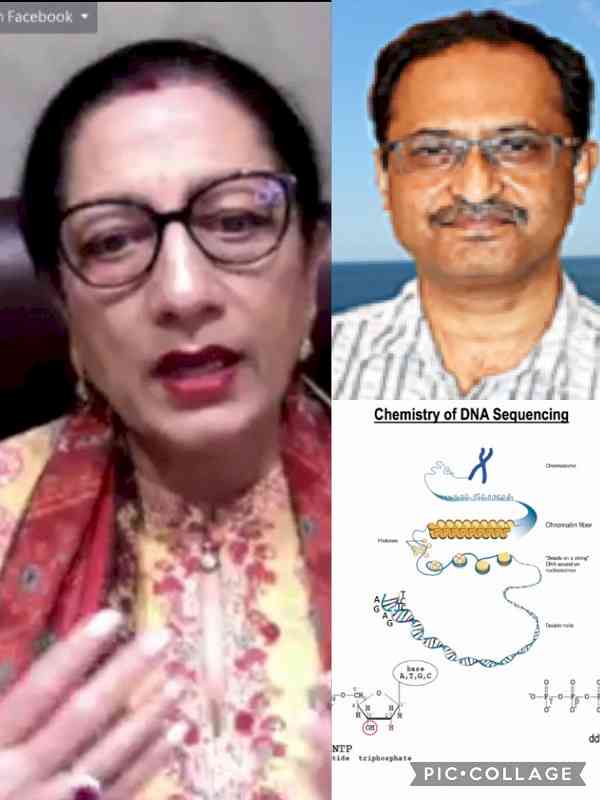 Jalandhar: Kanya Maha Vidyalaya organised another virtual interaction with the scientists of National Institute of Plant Genome Research (NIPGR), New Delhi under DBT Star College Status through Science Setu Program. 
It was a unique opportunity for science students at undergraduate and postgraduate level to get an exposure to such a high-level research. 
The resource person for the event was Dr. Debasis Chattopadhyay, Scientist VII, NIPGR. The topic of his talk was Milestones in Plant Genomics. Dr. Debasis started his lecture by enlightening the students on the concept of genomics & discussed about the evolution of life and the process of DNA sequencing. He told about the chemistry of DNA sequencing & stressed on the Sanger's chain termination method for DNA sequencing. He discussed about the concept of separation of reaction products and detection of LASER &  also discussed about 2nd Generation DNA sequencing(Short Read Technology). He also talked about the evolution of plant species by genome duplication & concluded his lecture by discussing about the genome sequencing of the various plant species such as, Arabiodopsis, potato, grapevine, tomato and talked about the evolution of life by genome duplication. Dr. Pinky Agarwal and Dr. Amarjeet Singh, Scientists, NIPGR attended the questions of the participants. 
Principal Prof. Dr. Atima Sharma Dwivedi averred that it was an intellectual and exciting experience for all the participants to learn the practical aspects of science from the scientists of international calibre. She further maintained that KMV always strive to impart quality based science education to the students and always keep on organising such meaningful activities for the betterment of the students.