KMV organises success celebrations cum career counselling for PG students
Students apprised about various career opportunities in their respective fields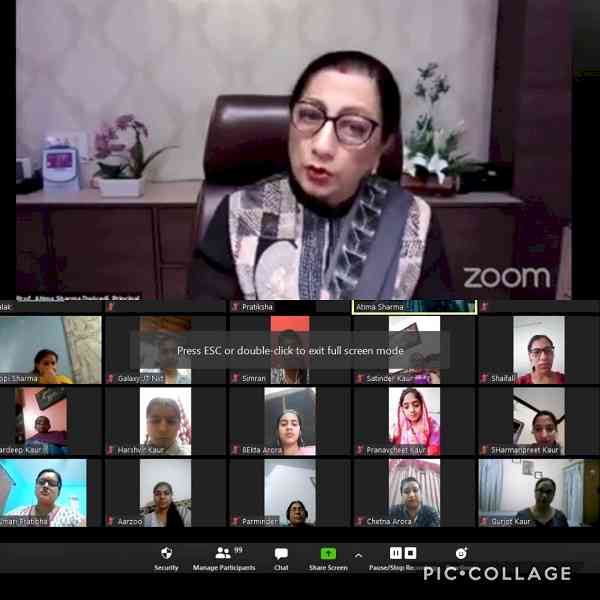 Jalandhar: In a new initiative, Kanya Maha Vidyalaya organised Success Celebrations cum Career Counselling for the passed out Post Graduate students of KMV. The purpose of the activity was to apprise all the students about the various career opportunities available to them after completing their education in their respective fields. 

In her inaugural address, Principal Prof. Dr. Atima Sharma Dwivedi congratulated all the students on successfully completing their post graduate studies from this iconic institution. Madam Principal also stressed on the fact that these students are the first batch of post graduate classes that have completed their studies under Autonomous system. She further maintained that KMV has a great feather in its cap as being one of the best ranked colleges in India. We at KMV have introduced various reforms in all the courses so that we should be able to impart quality based education to the students at par with the international standards. Madam Principal also congratulated all the faculty members of the college who are working tirelessly for the growth & development of the students. Prof Dwivedi averred that the degree of KMV will always provide an upper edge to the students in making up their careers.
After Principal's address, Dr Gopi Sharma gave her presentation on career prospects in science fields. She said that students after doing M.Sc Physics can become a Research Fellow, Astronomer, Nuclear Engineer & Aerospace Engineer etc., while students of MSc Chemistry can opt for the job role of Food & Drug inspector or can work in Pharmaceutical companies & Oil industries. Students with MSc Zoology can become Scientific Writers, Ecologist &  Marine Biologist etc. A student with MSc Mathematics can choose to be a Scientist with DRDO, Demographer, Meteorologist & Quantitative Risk Analyst. Dr Neeraj Maini gave her presentation on career scopes in commerce stream after M.Com. She stated that students can pursue a career in Banking sector, Marketing sector, Insurance sector, Corporate sector & can also be an Indian Revenue Services officer. After her presentation, Dr Sabina Batra also highlighted the brilliant placement record of commerce department of KMV. Dr Gurjot Kaur during the event gave her presentation on job avenues in Humanities after post graduation. She stated that students with MA English, MA Hindi & MA Punjabi can work in media industry as content writer, anchor & translator and can also pursue research in any of the renowned university of India. Students with Masters in Journalism & Mass Communication have many job opportunities open to them. They can be a Journalist, TV anchor, filmmaker, video editor & a successful YouTube vlogger. Likewise, students of MA Music can be a successful singer, musician & voice over artist. MA Fine Arts students have an opportunity to be a Book illustrator, sketch artist & digital painter. After her presentation, Mrs Suman Khurana gave her presentation on career opportunities in IT sector. She stated that IT sector is one of the most sought after career in today's world as it is a highly paid field. After doing education in IT stream, students can become an IT Manager, Project Manager, Web developer, Web manager in Private as well as in Government sector. A student can also be a Specialist Officer as well as a Probationary Officer in Banking sector with IT skills in hand.
Mrs. Rashmi Sharma gave her presentation on career prospects in vocational courses. She began her presentation by focusing on the career scopes in Fashion Designing fields namely Fashion Designer, Fashion Merchandiser, Stylist, Creative Manager & Entrepreneur. She also apprised all the students about the job roles in Cosmetology field such  as Beautician, Make up professional in film & tv industry, Salon managers & Image consultants. She stated that students after completing M.Voc Animation can be an Animation artist, VFX artist, Video editor, Compositing artist. Students who have done M.Voc in Retail Management can make their career as Retail manager, Zonal manager, Store manager & Logistics manager, whereas, students of M.Voc Textile Design & Apparel Technology can be a Fashion Designer, Textile Designer & Boutique owner.
In the conclusion, Principal Prof Dr Atima Sharma Dwivedi averred that every student of KMV should make a career of her choice so that she may be able to become self reliant & can emerge as a strong empowered women in the society. 
Principal lauded the efforts of Mrs Parminder, Dr Gopi Sharma & all the members of organising committee for organising the event successfully.