KMV organises Alumni Meet Pearls – 2022
Honours Alumni who are giving their services in school education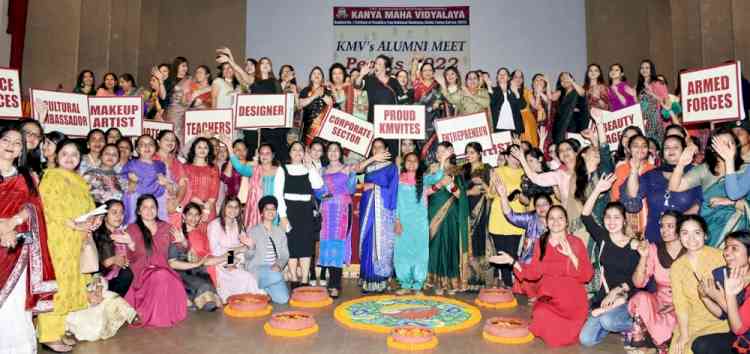 Jalandhar, March 12, 2022: Kanya Maha Vidyalaya (Autonomous) organized KMV Alumni Pearls-2022. The program commenced with the lighting of the lamp of knowledge. Dr Sushma Chawla, Vice- President, KMV Managing Committee was the chief guest of the occasion. 
Welcoming the alumni, Principal Prof. (Dr.) Atima Sharma Dwivedi apprised the alumni with the academic growth and achievements of the institution. She asserted that Autonomous Status of the college has been a great step towards academic excellence and KMV has achieved top rankings and top status only because of the academic reforms that has been introduced here. She averred that KMV will keep spreading the light for the times to come and KMV which commenced the an era of women empowerment and education in the whole South East Asia will keep the torch burning of women emancipation and empowerment in the world. Already emotionally charged atmosphere was further electrified by a spell-binding rendition of musical performances by alumni of KMV. KMV conferred honors on the alumni who are all giving their services in school education during the event to acknowledge their services.The alumni also shared some very cherished and interesting memories of their days at the college, their professors and the hostel life. Some new teachers and some old students of KMV who are amongst the faculty members also walked the ramp & illuminated the whole environment with their presence. It was then the turn of the senior enthused alumni like Dr Kamal Gupta, Member, KMV Managing Committee, Mrs. Shweta, Principal, Sacred Heart School,  Mrs Parveen Abrol, Mrs Sonia Virdi & Mrs Promilla from Denmark who shared the memories of their alma mater. The title of Ms Alumna KMV was bestowed upon Dr. Sushma Chawla. 
Principal Prof.(Dr.) Atima Sharma Dwivedi congratulated the organizers of Alumni Meet Pearls -2019 Dr Vinod Kalra and Dr Shalini Gulati. She extended her gratitude to all the alumni of KMV for sparing their invaluable time to get together and revive the golden memories of their life. She averred that KMV is always proud of its alumni as these alumni have glorified the name of the institution at the global level in different fields. Miss elegance title was won by Mrs Neha Waraich, Miss charming smile title was bagged by Ms Barun Kaur Mann, Miss beautiful attire was won by Ms Kamakshi during the alumni meet.