KMV organises 7-day online workshop on soft skills
This kind of workshop plays an important role in imparting required skills to the students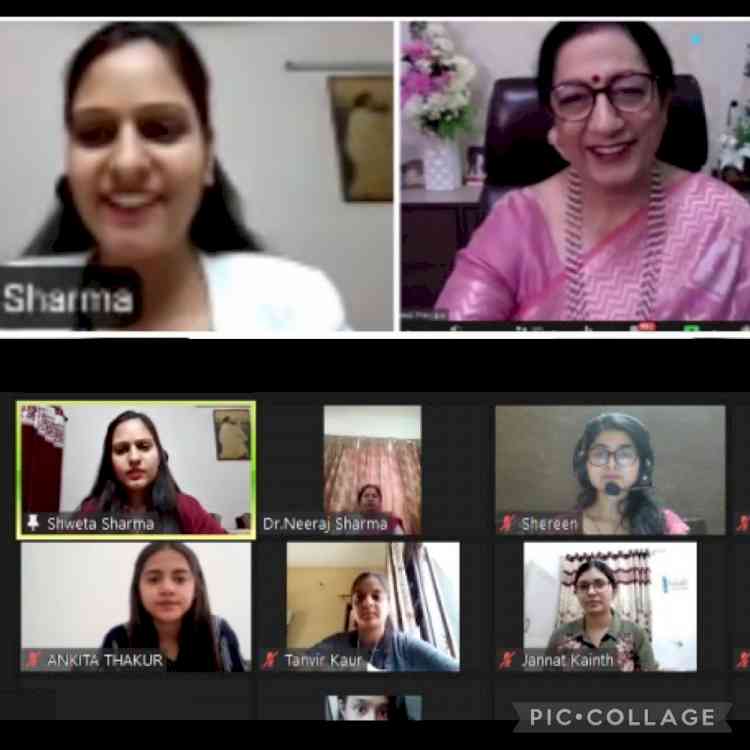 Jalandhar: Kanya Maha Vidyalaya- the Heritage & Autonomous institution, Seat of Women Empowerment with Top National and State Rankings by India Today Survey of Best Colleges 2020 (various categories) & Outlook Magazine organized a seven day workshop on Soft Skills. The workshop was organised by Department of Sanskrit, KMV Hostel & Student Ambassadors of KMV. More than 115 students participated in the program with full zeal & enthusiasm.
Ms Shweta Sharma was the resource person for the workshop. She acquainted the students about the interview skills in detail & explained in detail the importance of self preparation, self confidence & general knowledge. Apart from this, she also talked about the different aspects of communication skills and also laid emphasis on importance of communication, communication process & steps of communication etc.
During the workshop, Ms Shweta laid emphasis on the importance of rich vocabulary and jargon in order to become a successful communicator. She also shed light on Proxemics, Haptics & Kinesics etc. while defining the body language. It is pertinent to mention that the participants from Punjab, Haryana & Jammu & Kashmir etc. participated in this workshop.
Principal Prof. Dr. Atima Sharma Dwivedi averred that this kind of workshop plays an important role in imparting required skills to the students so that they should be able to succeed in this much competitive world.
Principal lauded the efforts of Dr Neeraj Sharma, Head, Sanskrit Department, Hostel Warden Ms Parmjit, Ms Balwinder, Ms Jagjit, Ms Anuradha, Nurse & student ambassadors namely Anjali Thakur, Ankita Thakur & Sirin.