KMV carnival of budding entrepreneurs held 
Popular singer Masha Ali regales audience with his hit numbers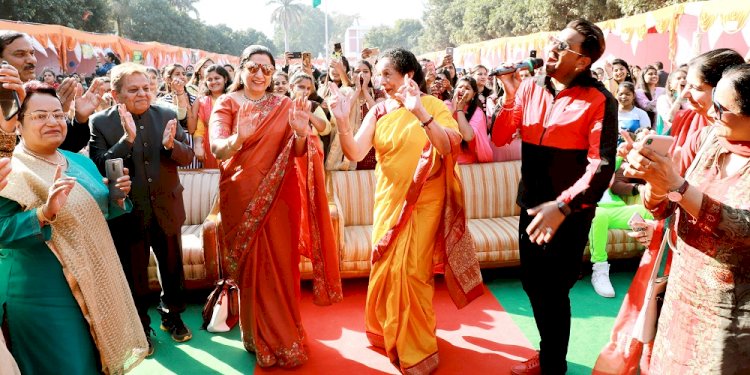 Jalandhar: Kanya Maha Vidyalaya organized its Annual Fete KMV Carnival of Budding Entrepreneurs to provide a break from the academic routine. The Chief Guests for the inaugural ceremony of the Annual Fete was Chander Mohan (President, Arya Shiksha Mandal) and Neerja Chander Mohan (Member, KMV Managing Committee).
Principal Prof. (Dr.) Atima Sharma Dwivedi gave a floral welcome to the esteemed guests. The college wore a colorful and festive look on this day as various number of stalls were donned up with mouth watering delicacies, various handmade articles, fun games, Selfie Station, Dizzy Rides and DJ etc. to add to the overall ambience of the day. It is important to mention that all the items in all the stalls of fete namely food items, jewellery, clothing articles etc. were hand made by the students of KMV. Popular singer Masha Ali also entertained the students by his popular tracks & made everyone dance to his tunes. Mom and Baby Twinning Show was also organized in which adorable babies took part along with their mothers. The event concluded with a Raffle Draw comprising of many attractive & bumper prizes ranging from LED, Refrigerator, mobile to various other useful articles. 
Selfie Station, a stall put up by the PG Department of Journalism & Mass Communication was adjudged the best decorated stall of the fete. Ms Sheena Aggarwal, Additional Commissioner, Municipal Corporation, Jalandhar was the Chief Guest for the Raffle Draw, whereas the Guest of Honor for the Raffle draw was Dr Sushma Chawla, Vice President, KMV Managing Committee, Dr Sushma Chopra, Member, KMV Managing Committee, Dr Satpal Gupta, Member, KMV Managing Committee & Prof. Suresh Seth, Member, KMV Managing Committee. 
Principal Prof. (Dr.) Atima Sharma Dwivedi averred that these types of activities helps in the overall growth of the students as the co-curricular activities are also an essential part of a student's life along with the academics. Madam Principal also assured to contribute the proceeds of the event to the college poor students fund. Prof. Atima Sharma Dwivedi also lauded the efforts of whole organizing committee for organizing the annual fete.