KMV announces full freeship for 5 percent deserving students in each program
Single girl child scholarship and other scholarships over Rs 1 crore dedicated to cause of women empowerment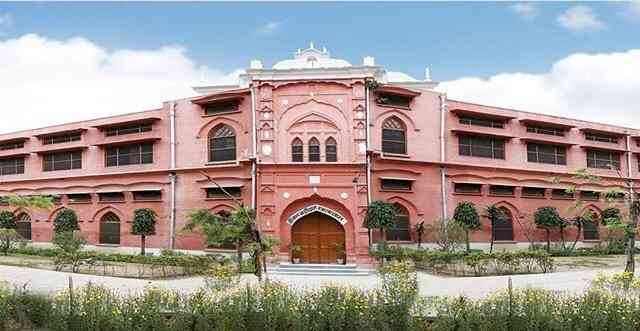 Jalandhar: Kanya Maha Vidyalaya has the proud distinction of receiving Top National and State Rankings by the prestigious India Today during its Survey of Best Colleges ,2020.It merits a mention here that KMV has received these top rankings for second year in a row.In 2019 too KMV was ranked No.1 college of India in Best Value for Money Category.  This year too KMV is among top two colleges in India in Best Value for Money Category. It has received top national and state rankings in various categories.Various streams including Fashion Designing, Commerce and Business Administration, IT , Humanities and Sciences have been ranked among top colleges of India. 

Throwing more light on it, Principal Prof. Dr. Atima Sharma Dwivedi maintained that coming from such popular, noted and acclaimed magazine of national repute and standing, this survey of Best Colleges has placed KMV in top league of colleges and is indeed a matter of pride for the whole city and the state. Top Rankings year after year motivate us to continue our pursuit of excellence and  provide world class education along with fostering global competencies in our students. She further averred that celebrating this glorious achievement, we wish to make students the beneficiaries and have taken a colossal step for their welfare by  announcing full freeship for 5% deserving students in each program. It is pertinent to mention that apart from this newly announced scholarship,  we also grant various scholarships and concessions  to facilitate girl students in pursuing their cherished dreams. The college provides financial support and incentives to students with outstanding performance in academics, co-curricular activities  & sports  and  to students with physical disabilities, besides helping the needy and economically weak  students.
⮚    The college awards full freeship to students scoring 93% marks & above and students  achieving top position in the university  in  any  stream. 
⮚    The college offers  an amount of Rs. 10000 as scholarship to students scoring  90 to 92.9 percent marks, Rs 6000  to students  obtaining 86  to 89.9 percent marks and Rs 4000 to students securing 80 to 85.9 percent marks. 
⮚    The students securing 1st position in the class receives Rs. 7000 as scholarship, Rs. 5000 is given to students securing 2nd  position in the class, Rs. 3000 is given to the students securing 3rd position in the class & Rs. 1200 is given to the students securing any other merit position.
⮚    The college  provides up to 100 percent fee waiver for economically weak students and further helps them by offering free books, free Internet facility,  free remedial classes and free Personality Development Programme, Foundation Programme, Yoga, Self Defence classes, Moral Science Programs and Student Counselling facilities. 
⮚    All college players get full freeship, free boarding & free lodging facility.
⮚    To promote women education, KMV has announced  a concession of Rs. 2500 annually to single girl child & Rs. 2500 Sister concession.
⮚    A concession of Rs. 10000  is reserved for parentless students and a concession of Rs. 5000 is given to Single mother child & a concession of Rs. 10000 is provided to the  physically challenged  students. 
⮚    Any student whose  father has expired will also get a concession of Rs. 5000. 
⮚    College also provides full freeship for the ward of Martyrs and a concession of Rs. 5000 for the wards of Armed Personnel. 
⮚    In addition to these  scholarships, the outstanding achievers in academics, Extra Curricular Activities and other areas receive scholarships/ cash awards. 
Principal Prof. (Dr.) Atima Sharma Dwivedi reiterated the commitment of the  college to the cause of women emancipation through providing educational opportunities to girls and by making all out efforts to reach out to even the most marginalised class. She further averred that it is indeed a matter to gloat over that no student leaves KMV portals because of paucity of funds as here service to humanity is our motto and mission and this initiative of providing full freeship to 5% students will help many students to foster a better tomorrow.