Khanna police nab gang of suppliers of illegal weapons 
Recover arms and ammunition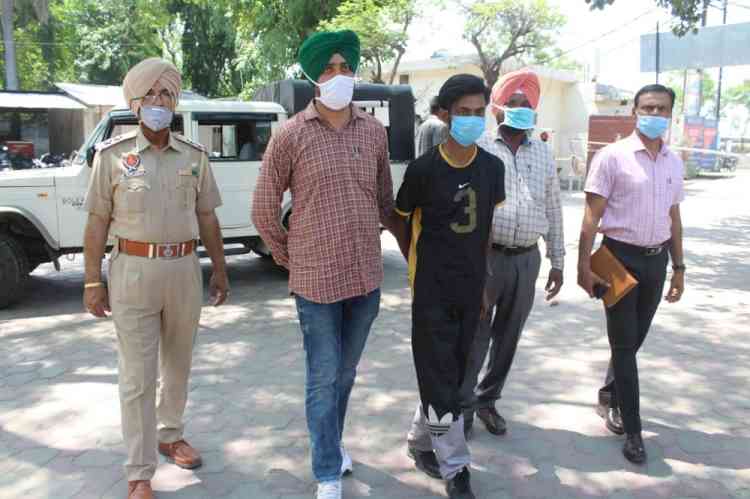 The alleged accused of illegal arms suppliers in Khanna police custody. Photo by: SK Shourie/Khanna
Khanna: Today SSP Khanna Gursharandeep Singh Grewal addressing a press conference said that they have started a special campaign against the anti-social elements.
During this campaign Khanna Police have achieved a huge success when  the Khanna police  were present at Samrala Chownk Khanna for checking suspected persons/vehicles, where a tip-off was received that Aditya Kapoor @ Makhan R/o Katra Safed Amritsar (prisoned in Jail) who is in contact with Harpreet Singh @ Happle @ Happy R/o Ward no. 9 Adresh Nagar, Guru Harsahai District Firozepur  who were as a supplier of illegal weapon, who brings the illegal weapon from other states and use to deliver in Punjab. 
The police had got a tip off that Harpreet Singh @ Happle @ Happy was present at G.T Road Khanna near Ramgarhia Bhawan with illegal weapons could be apprehended with heavy quantity of illegal arms and ammunition, said the SSP. 
A Case FIR (No.101 dt 21.05.2021 U/s 25/54/59 Arms Act PS City-2 Khanna) has been registered against Aditya Kapoor @ Makhan and Harpreet Singh @ Happle @ Happy and Harpreet Singh @ Happle @ Happy was arrested near Ramgarhia Bhawan G.T Road Khanna. After frisking his bag, 11 pistols along with 25 other magazines and 3 live cartridges were recovered. 
SSP Khanna further added that during initial investigation It has come to light that Harpreet Singh @ Happle @ Happy is a notorious person in his area and his links are with various gangsters who are in various jails. Working as a puppet of Aditya Kapoor @ Makhan, he has bought this consignment of arms and ammunition from M.P. and going to supply in the area of Amritsar. Gangster Aditya Kapoor @ Makhan is a professional criminal and now he is behind the bars in Kapurthala Jail and upto 10 FIRs under various sections have already registered against him. The culprit is still being questioned, there is possibility of major disclosures. 
AT A GLANCE
Detail of Recovered Arms/ammunition : 
1) 11 Pistols with 25 magazines, 
2) 3 Live cartridges.
Arrested Accused:
1) Harpreet Singh @ Happle @ Happy R/o Ward no. 9 Adresh Nagar, Guru Harsahai District Firozepur