Khanna police claimed  to have nabbed two hard core criminals
Recover arms and ammunition from them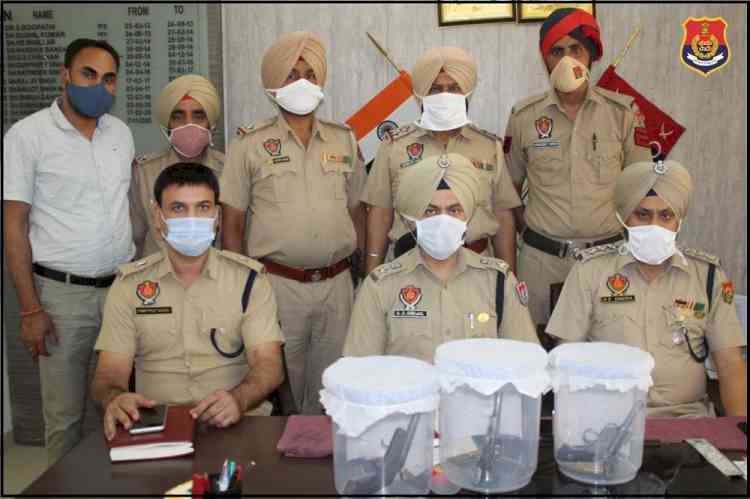 Khanna: Under a drive launched against the anti social elements, the Khanna police claimed  to have nabbed two hard core criminals with weapon. The alleged accused have been identified as  Jugraj SIngh R/o Village Mohanpur no.1, PS Dineshpur District Udham Singh Nagar Uttrakhand and Hampered Singh R/o Saidnagar Mundian PS Milk-khanam District Rampur (U.P.). 
On their frisking 02 pistols .315 bore alongwith 08 live cartridges were recovered from Jugraj Singh and 01 pistol .315 bore alongwith 05 live cartridges were recovered from Harmanpreet Singh. A case FIR no 52 dt 09.04.2021 U/s 25/54/59 Arms Act PS Doraha was registered against them.   
Addressing a press conference SSP, Khanna Gursharan Deep Singh claimed that during initial investigation it has come to light that Jugraj Singh is a professional & notorious criminal in his area & he is wanted in 08 cases of robbery, Arms Act & snatching in various states. Jugraj Singh came out of Tihar Jail on parole but did not go back. Jugraj Singh having links with person namely Balwinder Singh alias Chacha from Haridwar and they have robbed Rs.1,40,000 from Khatima Road Puranpur  U.P. from some person.  
Jugraj Singh along with Balwinder Singh alias Chacha did recce at Chandigarh to rob a Bank in March 2021 and also had a plan to do same at Delhi. Balwinder Singh alias Chacha sent them to Punjab with illegal weapons for execution of above said plan, so they were going to Amritsar side with illegal weapons for shelter (as Jugraj Singh's native village was Ajnala Amritsar).  By arresting them Khanna police saves the bank robberies and busted their evil plans. The culprits are still being questioned, there are possibility of major disclosures.