Keynote address by Prof Mukesh Williams from Soka University, Japan
Presented well-structured discourse on world literary canons and classics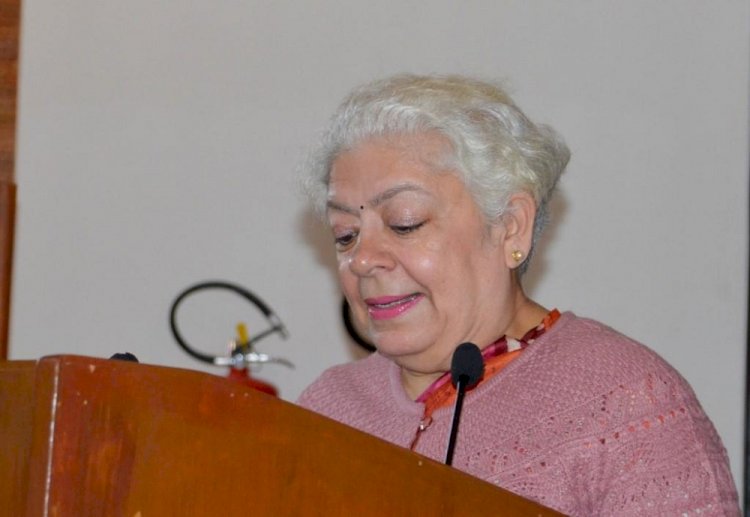 Chandigarh: The three- day 19th International Conference of MELOW (The Society for Multi Ethnic Literatures of the World) on Connections/Disconnections Literary Tradition, Continuities and Disruptions was inaugurated at the Department of English and Cultural Studies at Panjab University, Chandigarh.
The Inaugural session was graced by  Prof. Shankar ji  Jha, Dean University Instructions and officiating Vice Chancellor,  PU, Prof Manju Jaidka, President, MELOW, Prof. Deepti Gupta, Chairperson, Department of English and Cultural Studies, and a huge galaxy of academicians and scholars from India, Japan, Nepal, Sri Lanka,  Bangladesh, Poland and USA. In the Presidential Address Prof Jaidka highlighted the journey and purpose of MELOW and focused on the polarities and similarities offered by the deliberations of world literature.
 Prof  Shankar ji Jha emphasized on assimilation of  different languages to generate newer conceptions through academic exchanges. 
The Inaugural Address by Prof M.L. Raina was a sub-layered discourse on classifications of canonical literature and asymmetrical historical connections.
The Keynote Address was delivered by Prof. Mukesh Williams, Soka University, Japan.  He presented a well-structured discourse on world literary canons and classics; their formation, points of convergence, diversity, aesthetics, morality, prudence, creative consciousness and its survival in the digital age.  In the following parallel sessions, paper presenters from across the world shared their delineations on heterogeneous themes and texts. The conference will continue with the academic exchange for the next two days.
Session IA was chaired by Prof. Tej Nath Dhar where Rajul Bhargava presented his paper titled Remainders in the Production of the Social: The Problematic of 'Post' in the Postmodern. This was followed by Kalpana Purohit's Timelessness through the Lens of Literary Traditions and Neepa Sarkar's Seeing and Being: Discontinuity and Viewing in John Berger. 
The concluding paper was presented by Vaishali Gahlot titled Contesting Claims of Canon: Broad Theoretical Frameworks for the Study of Literary Traditions.
Session IB was held at the Language Lab chaired by Prof. Deepti Gupta where Barnali Saha presented a paper titled The Dawn of the Times: A Study of English NewspaperCartoons, 1946-47 followed by Pradipta Shyam Chowdhury's Kali for Women: De-canonizing the Publishing Ideology of India and  Ankita Kaushik's New Forms of Urban Representation: Space and Denial in Narratives of Delhi. The concluding paper was presented by Shimi Doley titled The Autobiographical "I" In Zami and the (Un) Making of A Canon
Session IC was held at the Smart Classroom chaired by Prof. Manpreet Kang where Ahmed Ahsanuzzaman presented a paper titled Challenging the Canon of European Modernism: Bengali Poet Jasim Uddin's The Field of the Embroidered Quilt followed by Limayangla Pongener's History as the Defining Characteristic of Emerging Literature from Nagaland and Khagendra Acharya and Tirtha Ghimire collaborated on Literature after the Maoist War: Divergent Themes and yet Identical Trajectory. The concluding paper was presented by Namrata Nistandra titled Being Human: Metamorphosis in Han Kang's The Vegetarian.
Session ID was held at the  Ground Floor, Room No. 1 chaired by Prof. Harpreet Pruthi where Ravinder Kumar presented a paper titled Orient and Occident: From Interrogated Republican Historiography to Anticipated Ottoman Legacy in Orhan Pamuk's The White Castle followed by Sumita Kumari's  Disruption of Conventional Narration in Orhan Pamuk's A Strangeness in My Mind and Prerana P. Doley's The New Dawn of Afrofuturist Science Fiction: Encountering the Posthuman Companion Species in Octavia Butler's Adulthood Rites. The concluding paper was presented by Kavita Dhillon titled Human Rights Crisis and Power Politics in John Oliver Killens' Sippi (1967)
Session IE was held at Ground Floor, Room no.2 chaired by Neela Sarkar where Praveen Kumar presented his paper titled Critical Insights and Value Judgement: Then and Now followed by Malini's Paradigm of Exclusivity and Alternative Discourses: A Literary Canon of Value Judgements and Javid Ahmad Reshi's Literary Classics in the Age of 280 Characters: A Shift from the Age of Typography to TV and Twitter. The concluding paper was presented by Manish Kumar titled Interrogating the Politics of Canon Formation: A Theoretical Purview. This was followed by a tea break.
Post tea Session II A was chaired by Prof. Debarati Bandyopadhyay where Eric Chinje presented a paper titled Understanding Literature in Africa: Sight, Sounds and Technology. 
This was followed by a series of presentations with Prof. M.L. Raina in the Chair. These included Sohana Manzoor's Rizia Rahman's RokterOkshor: A Shout from the Marginalized and Nadia Rahman's Dilruba Z. Ara's A List of Offences: A Study on Allegorical Commitment in Literature and Arifa Rahman's Translation Matters: Shaheen Akhtar's Short Stories

Session II B was held at the Language Lab, 1st Floor chaired by Prof. Dipankar Purkayastha. The presenters included Arunabha Ghosh and her paper titled Romantic Nature or Endangered Environment: Spatiality in Gary Snyder's Ecopoetry and Smriti Thakur and her paper The Shift in Trends of Visual Arts: Jeff Vande Zande's Landscape with Fragmented Figures. This was followed by Daniel Kalinowski's From Madmen to Total Artist: Witkacy's Way to Fame and Adela Kalinowski's A Polish Romantic: Cyprian Norwid in the Eyes of a "Late Grandson"

Session II C was held at Smart Classroom, 2nd Floor chaired by Prof. Khagendra Acharya where speakers included  Ranjith Krishnan and Rajalekshmi who collaborated on  The Multicultural in The Ramayana: A Reading of Vanara by Anand Neelakantan and Geetanjali who presented Reconstructing Sita: A Critical Study of the Visual Representations of the Ramayana. This was followed by Kriti Kalia's  A Tale of Two Sitas: Sita Recycled in Nina Paley's Sita Sings the Blues and Subham Amin's A Pamphlet or a Performance: A Critical Introspection of the Adaptation of The Ramayana in Sagar's Ramayan

Session II D was held at the Ground Floor, Room No. 1 chaired by Rajul Bhargava. The speakers included Somrita who presented "The story is not quite as you were told": An Analysis of the Adaptations of Fairy Tales and Folk Tales by Disney and Bashabi Gogoi's "This Story I Am Telling is all Imagination": Adapting a Postmodern Novel on Screen with Reference to John Fowles' The French Lieutenant's Woman. This was followed by Siddhartha Chakraborti's Understanding the Colonizer's Heart of Darkness: A Trans-historic/spatial Study through Adaptations across various Media and Anita Kumari's Contesting Racial Stereotypes: Acting as Resistance in Caryl Phillips's Dancing in the Dark

Session II E was held at the Ground Floor, Room no. 2 chaired by Prof. Anil Raina. The speakers included Amit Narula who presented Contesting Racial Stereotypes: Acting as Resistance in Caryl Phillips's Dancing in the Dark and  Vibha Bhoot's Phantasmagorical Ensemble Clasping the Indian Legacy: Ghetto of Discrimination for the Queer. This was followed by Sakshi Sundaram's Can "Indian Women's Writing(s)" Truly Exist? Revisiting the Challenges of Canon-Making and Canon-Breaking in Indian Literature and Vandana Sukheeja" Home and Identity in Pico Iyer's The Global Soul.